Exceptional speed and latency are always the most-focused on benefits of 5G New Radio (NR).
With the experience from the previous generation of mobile networks and the possibility for higher bandwidth technologies to make our world a better place to live, 5G NR combines several generation improvements to make this possible -- wider backbone, higher processing power, refined protocols, higher frequency in the spectrum and higher density of cellular base stations.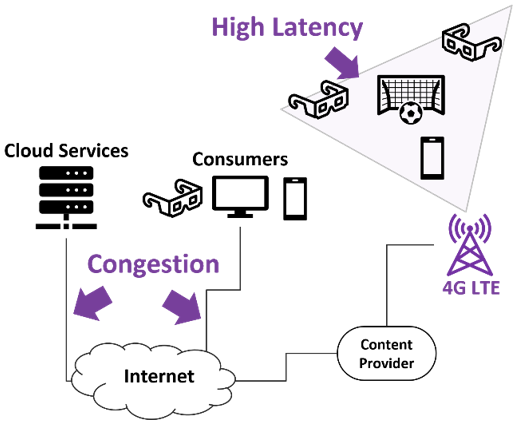 Use case limitations of traditional mobile networks.
These can definitely improve mobile connectivity but ubiquitous 5G speed is hardly guaranteed. The content source can be on some cloud servers or on the content delivery network (CDN), which might be a few hundred miles away from the end device, such as a smartphone. Such a long distance, even on optical fibers but with nodes and routing in between, will induce milliseconds of round trip time which accumulates at the device interface and affects the real-time experience. There might also be important events, such as sporting events or concerts, where a large number of 5G data users are grouped together and increase local demand. The competing demands of these user devices can also make 5G service feel more like 4G or 3G, and cellular customers are going to be unhappy if their service cannot adapt to their favorite memories or moments.
So, how have networking engineers minimized the potential lag that can increase the latency of 5G? The answer lies in multi-access edge computing (MEC)?
Benefits of MEC

Edge computing is a distributed computing paradigm that brings computer resources closer to the location of consumption. Sometimes it is referred to as "fog computing", a metaphor implying that while the digital clouds are in the sky, the 'fog' is covering a smaller area, closer to the ground and more relevant to the user. And MEC is exactly the same thing but in use on the mobile network and usually maintained by the mobile operators.
Cloud resources are usually hosted on large data centers. Although there are many of them, they are almost never where data consumption occurs. MEC resources, on the other hand, will sometimes be residing in telecom exchanges or server rooms in a large city to provide a higher coverage density than the data centers. It might not have the full flexibility of generic public cloud services from the data center, and in general it is not open to the public for subscription. Instead, MEC will usually be customized for a specific service need limited to a defined area. Service improvements will be noticeable to those covered by the relevant cell towers and users will not notice degradation in signal quality during peak demand.
The distance of backend resources to the frontend has been shortened with MEC; hence, users experience much better responsiveness for all real-time remote monitoring or streaming use cases. Remote broadcasting, virtual reality (VR) and augmented reality (AR) needs, machinery control and similar applications are ensured lag-free operation or monitoring.
There are additional advatanges for the network operator. MEC saves bandwidth on the network backhaul, as computational resources like 3D graphics rendering can be placed near the end devices. It is helpful for upstream, too. It is not a CDN that uploads content to the web. Instead, computational resources in the edge environment enable some tasks to be completed without sending the data through the cloud or backend servers. For video or other content, they can also be compressed or restructured for acceleration right in the edge, and again less bandwidth of backhaul needed. Metadata and additional information can be supplied to the cloud later.
Security is another advantage of 5G over previous generations although it doesn't get quite the same attention as latency or other features. In an MEC environment, security is further enhanced because of the nature of the topology. Mobile operators have the ability to provide private MEC services. When devices enter a defined area with the MEC enhanced service, traffic is routed to MEC resources which can be directly connected to the backhaul or to a private network. It essentially allows the service to run on a virtual private network (VPN), without the need for any VPN setup, although it may require users to have permission. It is transparent to the mobile user and traffic to the service never exists on the public internet.

Applications of 5G MEC
A massive, city or campus-wide internet of things (IoT) network is one of the best use cases of MEC. Typical IoT sensors might consume alot of bandwidth, depending on how many there are. Additionally, the data from the sensors needs to be aggregated and analyzed before being actionable. Artificial intelligence or machine learning is best positioned as MEC resources, as it could save valuable time versus data crunched at a data center and then sent back to the facility.
In July 2019, attendees to the Madrid Open tennis event were introduced to MEC technology from Silicon Valley Company YBVR. Fans both in and outside the stadium were able to access dozens of cameras, which provided an AR/VR experience. Attendees could seamlessly flip between cameras and add elements such as digital scoreboards, TV and social feeds to their view of the tennis match. It provided fans a different type of event immersion and potentially opens the doors for virtual tickets to events.
Conclusion
Edge computing for mobile environments has new meaning and added importance in the 5G era. It is a key technology enabler that delivers end user service expectations despite peak demands and latency challenges - and also provides fundamental solutions for network operators.