Zoox, an autonomous vehicle subsidiary of Amazon, unveiled its Level 5 robotaxi designed for urban mobility that features bi-directional capabilities.
(See A primer to the 6 levels of autonomous driving for a breakdown of the levels of self-driving vehicles.)
The Zoox robotaxi uses Nvidia's artificial intelligence technology and is designed to meet the needs of passengers instead of the driver. The Zoox vehicles will have no driver and was built from the start to optimize features necessary for autonomous, electric mobility such as sensor placement and large batteries.
The robotaxi has four-wheel steering, allowing it pull into tight curb space without parallel parking and because it is bidirectional there is no fixed front or back end. Meaning it can pull into a driveway and then forward drive onto a road without reversing. If there is an unexpected road closure it can flip directions or use four-wheel steering to turn around without needing reverse directions.
Nvidia cited research that forecasts by 2030, the use of robotaxis could generate $2 trillion in revenue and a recent survey of 6,500 U.S. drivers showed nearly half would be willing to give up car ownership if robotaxis became widespread.
Zoox and Nvidia first announced their partnership in 2017, with the innovative startup leveraging the high-performance, energy-efficient compute of Nvidia to build a Level 5 vehicle from the ground up. It was a significant milestone toward an autonomous future. Zoox is also an alumnus of Nvidia Inception, an accelerator program for startups transforming industries with AI and data science.
Nvidia's modular platform allows these robotaxis to be continuously added with new features and capabilities allowing companies to create custom configurations and new designs, such as the Zoox symmetrical layout with cameras, radar and lidar to achieve a 270 degree field of view on all four corners of the vehicle and can reach up to 75 mph.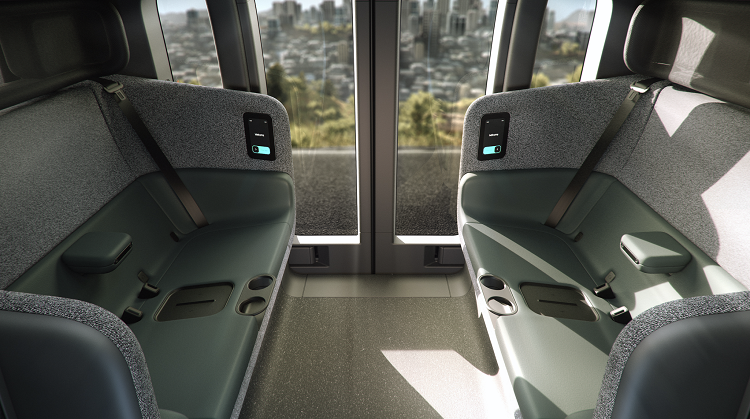 The interior of the Zoox robotaxi includes more space than a traditional vehicle without normal driver instruments such as a steering wheel, pedals and traditional dashboard. Source: Zoox
Additionally, the platform allows designers to use as many processors as needed to analyze data from the onboard sensors and ensure safety through diversity and redundancy of systems and algorithms.
The Zoox robotaxi interior includes the same space but without any driver instruments such as a steering wheel, pedals and traditional dashboard. The carriage seating inside the robotaxi allows for a wide aisle and more comfort for passengers allowing them to pass each other without getting up or contorting into awkward positions.
Zoox is one of several companies that are testing self-driving cars as a new way to offer expanded ride-hailing services. Several startups and established automotive heavyweights are actively exploring the use of these autonomous vehicles for public consumer rides. Some of these include Motional with its testing of robotaxis in Las Vegas, AutoX's Chinese trials, DeepRoute's collaboration with Cao Cao, Mobileye's Japan testing that will start in 2021 and Waymo's extended program for ride-sharing actively testing in numerous U.S. cities.
Zoox was acquired by Amazon in July to help accelerate a path toward autonomous transportation ride-hailing.