AR RF Microwave Instrumentation has added two amplifiers to its "U" (Universal) series. The new 150U1000 (150 W) and 250U1000A (250 W) models cover the 10 kHz to 1,000 MHz bandwidth, adding even more options to a series of amplifiers with universal applications. These solid-state, self-contained, air-cooled, broadband amplifiers are designed for applications where instantaneous bandwidth, high gain and linearity are required.
The amplifiers include a front panel gain control that permits the operator to conveniently set the desired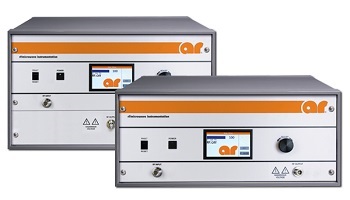 Source: AR RF Microwave Instrumentationoutput level and are protected from radio frequency (RF) input overdrive by an RF input leveling circuit that controls the RF input level to the RF amplifier first stage when the RF input level is increased above 0 dBm. The RF amplifier stages are protected from over-temperature by removing the DC voltage to them if an over-temperature condition occurs due to cooling blockage or fan failure. Both models are equipped with a digital control panel that provides both local and remote control of the amplifier.
Model 150U1000 and Model 250U1000A class A amplifiers replace the need for multiple units to cover the same bandwidth and eliminate dual band operation. These amps are easily transportable or can be integrated into a rack and are ideal for electromagnetic compatibility testing, medical research and other applications.