Researchers from institutes in France, Germany, Portugal and South Africa created an artificial intelligence (AI) model that can be trained to recognize individual birds during a population study. The team's study proves that AI is the key to overcoming a major limitation on bird population studies.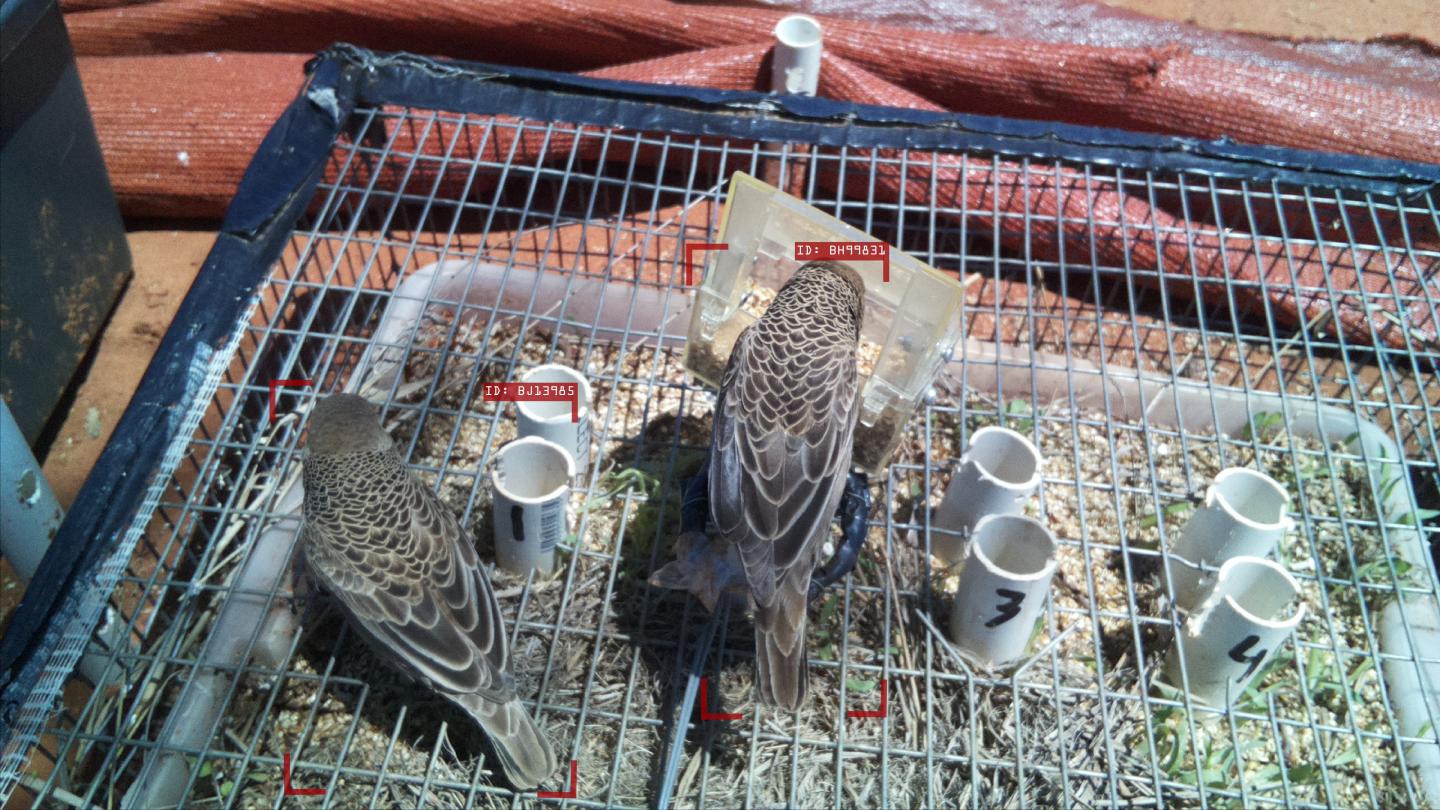 Two sociable weavers with the bounding boxes illustrating the individual identification performed by the computer. Source: Annie Basson and André Ferreira
Individually identifying birds is one of the most expensive and time-consuming parts of studying bird populations. This limits the scope of behaviors and population size that a team of researchers can study. The current method for studying individual birds is by attaching color bands to a bird's leg, which can stress the animals. Because of this, there has been a need to create an automatic and non-invasive method of automatic identification.
Until now, creating an AI model that can automatically identify individual birds has been difficult to develop because gathering labeled photographs of individual birds is difficult. The team overcame this challenge by building feeders with camera traps and sensors. Most birds in study populations carry passive integrated transponder (PIT) tags. When a bird landed on the feeder, the antennae read the tags to identify the birds and trigger the cameras.
The AI model in the study uses convolutional neural networks (CNN), which are ideal for solving image classification problems. CNNs have been previously used to identify small animals at the species level and hasn't been explored in smaller animals, until now.
To train the new model, the team collected thousands of labeled images of birds and used that data to train and test their AI model. This is a similar method used by companies for human recognition. The model was trained to recognize individual birds in wild populations of great tits and sociable weavers and a captive population of zebra finches. These are commonly studied species of birds. After training, AI models had an accuracy of over 90% for the wild species and 87% for the captive birds.
The team notes that currently, AI is only able to identify individuals it has seen before. Also, the appearance of individual birds can change over time. It is unknown how the performance of the AI model will be affected by a change in appearance, and the model may classify a bird it has seen before as a new one if its appearance has changed. But the team says that these limitations could be solved by training the algorithm on a large enough dataset.
A paper on this research was published in Methods in Ecology and Evolution.