Wire and cable marking is important for all applications, regardless of whether it is a home do-it-yourself project or in an industrial or commercial setting. This practice is second nature to professional electricians but is often overlooked by those with less skill or formal training. Proper identification is important for safety, troubleshooting problems and wiring efficiency. Every wire should be labeled as it is installed, whether it is with wire markers or ID tags.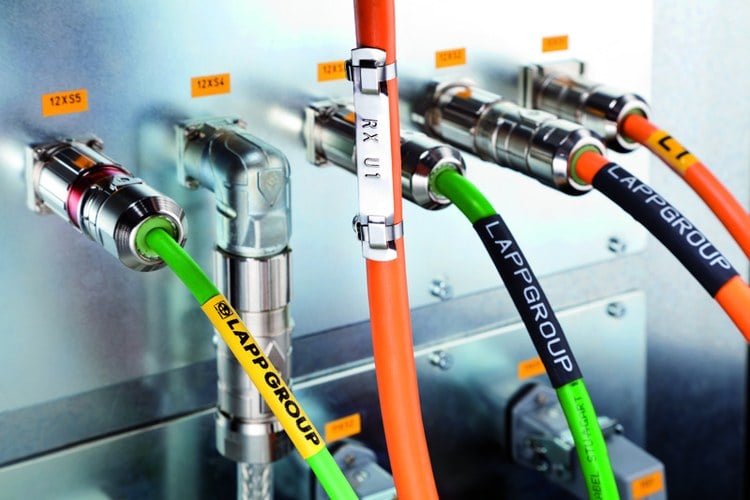 Fleximark cable marking solutions. Source: Lapp
Lapp North America manufactures the Fleximark cable marking system in addition to a line of control cables, data network cables, industrial connectors, conduit and cable glands. The Fleximark marking system is aptly named. Labels, inscriptions and markings can be created manually or with the FL-Soft Cable Marking Software.
Material options including plastic and stainless steel are available to suit indoor or outdoor applications. Assembly with cable ties or fastening strips is simple, even in hard-to-reach spaces.
Made-to-order tags are available as well as user created. Character sets include letters, numbers and symbols.
Made-to-order marking solutions — custom solutions created to user specifications.
Fleximark FCC plastic labeling system — permit up to 46 characters on one or two lines and printed with inkjet or user-specified print technology. Cable ties are included with labels.
Fleximark FCC stainless steel markers — ideal for harsh conditions and can contain up to 25 characters per marker on one or two lines.
Fleximark plastic (left) and stainless steel (right) FCC markers. Source: Lapp
Do-it-yourself marking solutions
Fleximark M and MR holders — Fleximark M are perforated holders that can be cut to any length. Fleximark MR are pre-cut holders. The number of characters is limited by the length of the holder. Both designs are manufactured from stainless steel and can accommodate letter, number or symbol character markers and be mounted with cable ties or fastening strips.
Fleximark M (left) and MR (right) do-it-yourself cable markers; Source: Lapp