Researchers created a pacifier-based biosensor that tracks real-time glucose levels in a baby's saliva. The biosensor can be used to diagnose and treat diabetes from an early age.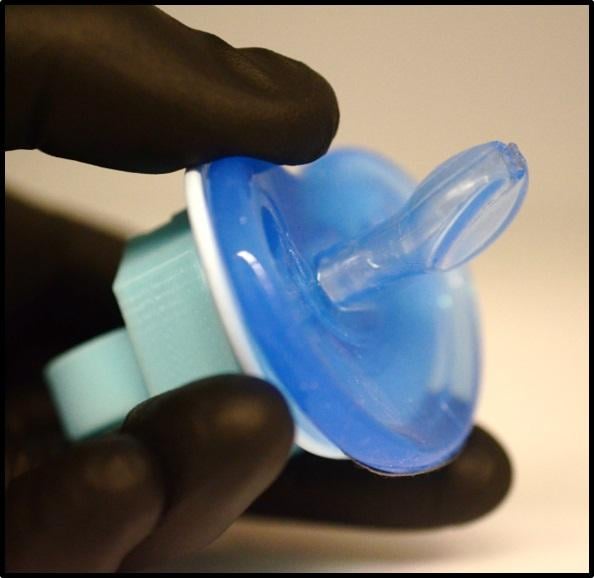 A pacifier biosensor could someday be used to non-invasively monitor glucose in the saliva of infants.(Source: Analytical Chemistry 2019)
Wearable biosensors noninvasively monitor health and fitness, and are worn by many adults daily. Wearables have been developed to be worn on the skin or embedded into clothing. Until now, it has been difficult to use wearables with babies and infants. Biosensors are typically made with bulky and rigid surfaces that could be harmful to a baby's skin. Long term use of wearables could cause discomfort for babies that they cannot communicate. The new biosensor is created with soft, pacifier-like materials that are safe for babies.
Continuous glucose monitoring in newborns is currently only available in hospitals and requires piercing the baby's skin to get to the interstitial fluid. Researchers wanted to create a way to monitor glucose levels easily, at home and without causing the infant pain.
The new biosensor is made of a pacifier. The nipple of the pacifier has a narrow channel so when an infant sucks on the pacifier, small amounts of saliva travel up the channel to a detection chamber. Once in the detection chamber, the saliva travels through an enzyme attached to an electrode strip. The enzyme converts the glucose into a weak electrical signal, which is then detected wirelessly through a cellphone app. The strength of the current correlated with the amount of glucose present in the saliva.
While there are some wearables for babies on the market, those wearables have been made to only measure physical characteristics like heart rate and respiration. These wearables don't measure biomarkers, like glucose.
Researchers have not yet tested their wearable on infants. They conducted their preliminary analysis with adult-type one diabetes patients. The team successfully used the pacifier to detect changes in the saliva's glucose concentrations before and after a meal. The team hopes to further develop the wearable to detect other disease biomarkers.
A paper on this study was published in Analytical Chemistry.