New Yorker Electronics has announced the release of the extended Vishay Polytech T55 series of vPolyTan surface-mount polymer tantalum molded chip capacitors. The new devices in the D case (EIA 7343-31) size features single-digit equivalent series resistance (ESR) values from 9 mΩ down to 7 mΩ, with values to 6 mΩ in development.
Previously reserved for larger case sizes, the devices' single-digit ESR values are 3 mΩ to 5 mΩ lower than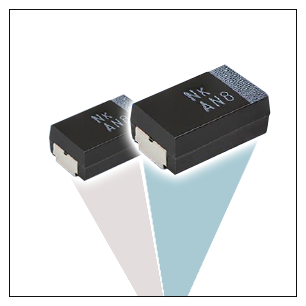 Source: New Yorker Electronicsthose typically found in D case devices. This results in reduced voltage drops, better frequency response and higher ripple current ratings. They also reduce the number of capacitors required on the PCB, and with the D case's low 3.1 mm profile, they enable the design of thinner end products.
This series gets better frequency response and higher ripple current ratings up to 5.67 A isotope-ratio mass spectrometry (IRMS). They provide low internal resistance for enhanced charge and discharge characteristics.
The extended versions now boast a capacitance range of 3.3 μF to 1000 μF, a voltage rating of 2.5 V DC to 63 V DC and a tolerance of ±20%. Compatible with "high volume" automatic pick and place equipment, the T55 series is ideal for such applications as power management, battery decoupling and energy storage in computers, servers, network infrastructure equipment, solid state drives and wireless transceivers.
Case sizes range from 1.6 mm x 0.8 mm x 0.8 mm up to 7.3 mm 4.3 mm x 2.8 mm. Depending on the case size, it has a maximum permissible power dissipation of between 0.05 W and 0.225 W at a less than or equal to 45° C in free air.
New Yorker Electronics is a franchise distributor for Vishay Technology and supplies its full line of semiconductors and passive components. As a franchise distributor for Vishay Polytech, New Yorker Electronics supplies its molded tantalum chip capacitors with manganese dioxide cathode, molded tantalum chip capacitors with polymer cathode and niobium capacitors.
Data sheet: