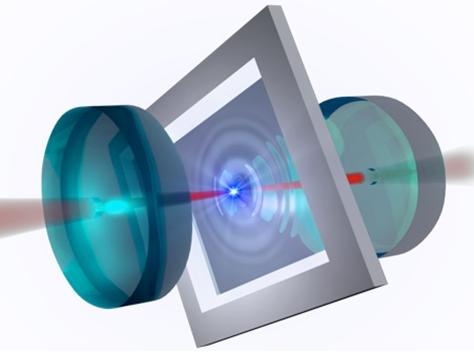 In the image, a flexible membrane (gray square) serves as an acoustic resonator, placed between two mirrors. When laser light is trapped between the mirrors, it passes repeatedly through the membrane. The force exerted by the laser light is used to control the membrane's vibrations. Source: Harris Lab/Yale UniversityYale researchers have found a way to make sound flow in one direction. To achieve this, the team used a device commonly found in many technologies, the acoustic resonator. After testing with sound, the method was also used to flow heat in one direction. This discovery opens new doors for enhancing electronics that use acoustic resonators.
Acoustic resonators are found in musical instruments, car exhaust pipes and more. They are typically used as sensors, filters or transducers. Resonators are compatible with many materials, frequencies and fabrication processes.
The team used two acoustic resonators to create one-way flowing sound. The sound in one resonator can leak into the second resonator, but the sound doesn't travel the other way around. To achieve this, the team used a tuning knob that can weaken or strengthen the sound wave's direction.
After testing with sound, the team turned to heat. They wanted to see if they could make heat flow in one direction and not the other. Heat is made mostly of vibrations, so the team applied the same ideas. The team found they could make heat flow regardless of what the temperature is.
"This would be like dropping an ice cube into a glass of hot water and having the ice cubes get colder and colder while the water around them gets warmer and warmer," said Jack Harris, Yale researcher on the team.
A paper on this research was published in Nature.