Most skin cancers are caused by excessive ultraviolet (UV) irradiation from the sun. While sunscreen formulations reflect or absorb UV light to protect skin from damage, they do not provide a measure of UV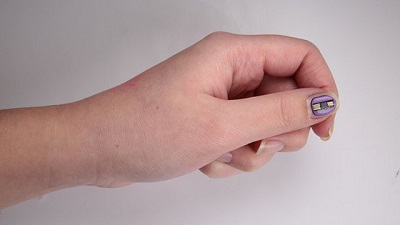 The solar-powered device can warn users about UV over-exposure and help optimize dosing during light therapy. Source: Northwestern Universityexposure.
Skin protection solutions are now being developed, including color-changing sensors developed in six different types to reflect the range of human skin tones. Another approach advanced by Northwestern University researchers in concert with L'Oreal warns users of UV overexposure and can also help clinicians optimize dosing during light therapy.
The solar-powered device monitors up to three separate wavelengths of light at one time and was demonstrated to track multiple forms of light exposure during outdoor activities, even in the water. Light strikes a millimeter-scale semiconductor photodetector in the candy M&M-sized sensor, which then generates a small electrical current of magnitude proportional to the intensity of the light. The associated charge stored in a capacitor is read by an embedded communication chip and transmitted digitally and wirelessly to the user's smartphone.
Virtually unbreakable and battery-free, the sensor can be used to improve the precision of light doses received by phototherapy patients, such as those with psoriasis or newborns with jaundice.