Western Digital has unveiled the industry's highest capacity hard disk drive (HDD), the 15 TB Ultrastar DC HC620 host-managed SMR HDD. The Ultrastar DC HC620 delivers an unprecedented capacity point with a time-to-market advantage for customers who have invested in, and continue to take advantage of the benefits of shingled magnetic recordings (SMR).
The Ultrastar 15 TB host-managed SMR HDD is well positioned for hyperscale cloud and traditional data center workloads, including large video surveillance smart city initiatives, storage for regulatory compliance and big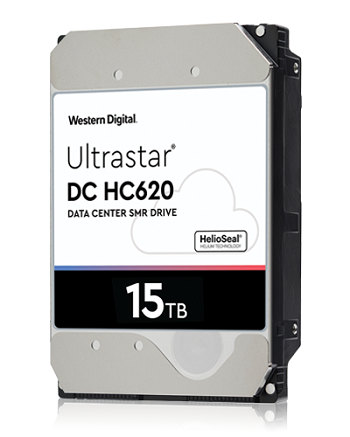 Source: Western Digitaldata storage. Enabling the world's densest server and storage systems, incorporating 15 TB HDDs allows a fully populated 4U60 HDD enclosure to reach a raw storage capacity of 900 TB, which is an additional 60 TB per 4U rack in the same footprint compared to those utilizing 14 TB HDDs. In an at-scale environment where floor space, dollar-per-terabyte, terabyte-per-square foot or watts-per-terabyte are critical, this total cost of ownership savings can be significant.
Based on the company's proven HelioSeal platform, and as an extension to the industry's first 14TB SMR HDD family, the 15 TB enterprise-class Ultrastar DC HC620 host-managed SMR HDD reflects another industry first, continuing the company's tradition of delivering the highest capacity enterprise-class HDDs in the market. Western Digital is currently shipping Ultrastar DC HC620 qualification samples to select customers with broader availability later this quarter.
The new Ultrastar DC HC620 HDD further expands Western Digital's broad range of enterprise-class storage solutions, which include high-performance NVMe SSD devices, innovative HelioSeal enterprise-class hard disk drives as well as SAS and SATA SSDs. The company's data center systems include its ActiveScale, IntelliFlash, OpenFlex and Ultrastar storage servers and platforms.