Figure 1. A gap waveguide is constructed of two parallel plates with a pin structure that prevents an electromagnetic wave from propagating in undesired directions, and ridges to guide the wave through the structure. Source: Gapwaves ABGap waveguides, a new low-loss, metamaterial-based transmission line and packaging technology, is advantageous above 30 GHz, with extremely low losses for 5G, radar and fixed-beam antenna applications..
The ability to transmit microwave or high-frequency signals in the 30 GHz to terahertz ranges is an important requirement for 5G wireless systems and similar applications. Bulky, solid, rectangular waveguides and coaxial transmission lines are typically used for high frequencies because they have low losses. Using a rectangular waveguide with a planar monolithic microwave integrated circuitry (MMICs) requires additional transitions, which further increases system losses, complexity and bulkiness.
Microwave Challenges
Designing a compact, low-loss millimeter or microwave wave device is an engineering challenge. Several problems arise in attempts to scale current waveguide technologies down in physical size and up in frequency. Planar waveguide designs with conductive sidewalls or designs with electrical connections between two split blocks have been introduced, but they require precise alignment to provide good performance, which requires complicated and costly machining.
Low loss and high Q values cannot be achieved because field leakage through tiny gaps occurs due to machining defects and thermal expansion. While microstrip and coplanar waveguide lines are reliable, low-cost solutions for integrating microwave chips on circuit boards, they exhibit high insertion losses at millimeter-wave frequencies due to interactions with the lossy dielectric substrate.
Waveguide Solutions
Gap waveguides consist of a structured metal surface in close proximity to a flat metal surface, which forms a metamaterial. Gap waveguide or ridge gap waveguide designs use metamaterial surfaces consisting of precisely spaced metal pins and ridges. This arrangement creates a parallel-plate stop band between two parallel surfaces, which confines wave propagation to the metal ridges between the pins.
The metamaterial acts as a perfect magnetic conductor (PMC) within the operating frequency band. The PMC acts as a stop band halting wave propagation inside a gap. The metamaterial can have textures or layers in the form of posts, pillars, patches, pins, mushroom shapes, inverted pyramids, grooves or other forms extending in a quasi-periodic or periodic pattern from a surface. One or more of the elements in the device, such as metal pins, metalized grooves or metal strips, is conductive. Losses are kept low because the waves propagate between and along conductive surfaces within the gap, but not inside the texture or layer material.

Figure 2. A comparison of the gap waveguide and alternative waveguide technologies. Source: Gapwaves ABGap waveguide-based antennas have over 10 times less loss than microstrip lines, more than three times less loss than substrate integrated waveguide (SIW) antennas, and approximately the same loss as rectangular waveguides. Production cost is considered to be low to moderate compared to the high production costs of rectangular waveguides. Gap waveguide technology promises high antenna design and integration flexibility comparable to microstrip waveguide technology.
The structured surfaces can be fabricated through machining (e.g., milling, drilling), by metalizing a molded or extruded plastic surface or by laminating conductive strips with plastic or elastomer layers. No metallic contact or conductive paths are required between the two plates, so the assembly is simpler and easier to fabricate compared to rectangular waveguides, which are welded or tightly mechanically fastened.
Waveguide Applications
Radar for autonomous vehicle operation is one promising application. The inherent low losses of gap waveguides for feeding and high antenna gain will empower radars with long range and wide fields of view without sacrificing resolution. Gap antennas with multiple ports are suitable for beamforming applications.
Two different frequency bands, 24 GHz and 77 GHz, are mainly used for automotive radars. While the 77 GHz band offers higher performance, minimizing losses at these frequencies is more challenging. Developing 24 GHz automotive radars is easier, but their large size is harder to design into a vehicle. In addition, radars operating at 24 GHz require around three times larger antennas than radars operating at 77 GHz, to achieve the same performance. Gap waveguide can provide 77 GHz radar in a lower cost and more c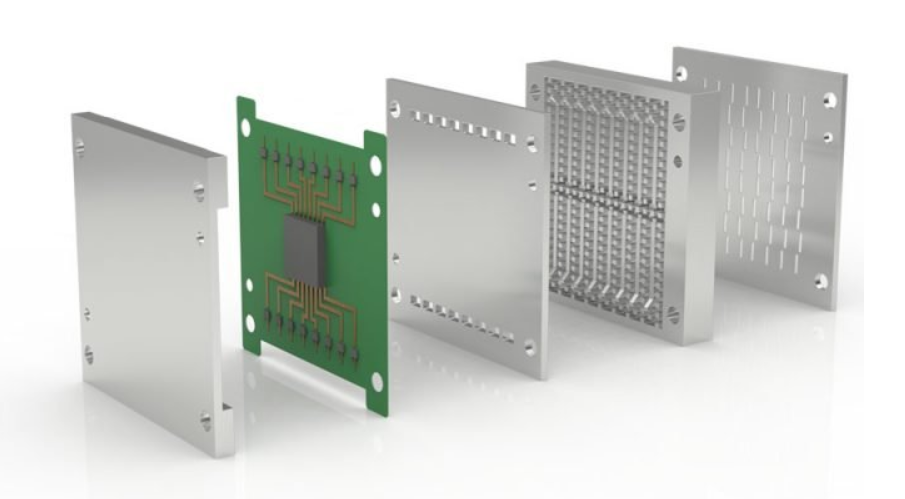 Figure 3. Designed for millimeter 5G applications, millimeter wave, is a phased array antenna with 65dBm EIRP at 28 GHz based on gap waveguide technology. Source: Gapwaves ABompact form for easier integration into the vehicle.
Gap waveguide also presents a novel packaging technology for millimeter wave and terahertz circuits and components that have unique advantages compared to existing transmission line and waveguide technology. Microwave and millimeter wave devices with MMICs, waveguide and antennas should have a compact size, low loss and reduced cost. The gap waveguide technology has unique possibilities of creating tightly integrated solutions, including planar antennas, filters, diplexers and other active components. For high-frequency applications, gap waveguides and gap lines could be fabricated inside an IC chip package or even within the integrated circuit device.
The technology enables planar solutions with extremely low losses, operating typically from 30 GHz to terehertz in applications such as antenna systems for gigabit-speed wireless communication and backhaul or the microwave communications between 5G base stations. The technology has possibilities for producing steerable antennas, a key enabler for 5G development.
Per-Simon Kildal, a professor at Chalmers University in Sweden, originated the concept of soft and hard surfaces, which led to the gap waveguide technology. Many papers, articles and presentations in the engineering literature have verified gap waveguide technology's superior performance as a transmission line for making advanced microwave circuits and as a packaging technology. Kildal and his colleagues at Gapwaves AB have patented or applied for patents for many aspects of gap waveguide technology.