The Unites States' efforts toward more efficient energy management will begin to accelerate in 2015, driven in part by a boom in shale gas drilling and a resurgence in infrastructure development for the smart electricity grid.
After three years of decline and stagnation, the combined market for distribution automation hardware and smart electricity meters in North America will resume its growth in 2015, with revenue projected to rise 3.2 percent to $3.2 billion, according to a new report from IHS. By 2017, the market will expand to $3.6 billion.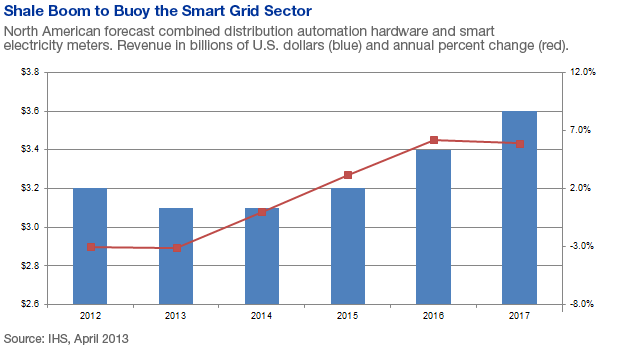 "The shale gas revolution in the U.S. is having a massive impact on the energy market, with new energy production expected to bring the country closer to energy independence, an event with major economic and geopolitical ramifications," said Donald Henschel, senior analyst, metering and energy management, for IHS.
"This development is having an impact in another, more surprising area: the smart grid," he said. That's because natural gas is ideal for use in smaller distributed-generation operations, which can form the basis for microgrids. The rising attractiveness of flexible, adaptive microgrids will help the smart grid grow to overcome the serious challenges faced by this region's utility sector, and will drive growth in sales of required equipment in the coming years, according to Henschel.
Natural gas affects the utility grid in several ways: Its expanding role in centralized generation is critical, but the opportunity for natural gas also extends to more affordable and environmentally sound microgrid development, providing energy security on distribution networks.
The U.S. has been waiting for evidence that the stimulus from the American Recovery and Reinvestment Act of 2009 was having an impact on the energy market. Smart meter shipments hit a high point in 2010 thanks to the stimulus followed by three years of decline. However, 2015 will see a return to growth, which will accelerate in 2016.
For electronics and manufacturing, the distribution automation market consists of 25 equipment types, including the full range of intelligent electronic devices (IEDs), voltage regulators, capacitor banks and switches, reclosers and other switchgear. These devices play a critical role in the smart grid, and their sales revenue is expected to rise through the period from 2010 to 2017.
Other factors propelling growth in the U.S. smart grid market include:
The increased availability of dedicated sensors, which together with smart meters are expected to spur the next wave of smart grid investment.
The requirement for greater security in the electricity grid.
Strong demand from rural electric cooperatives, which are emerging as technology and business innovators in North America
A profound inflection point in the growth of the microgrid market, spurred by requirements for improved reliability and reduced operational cost.