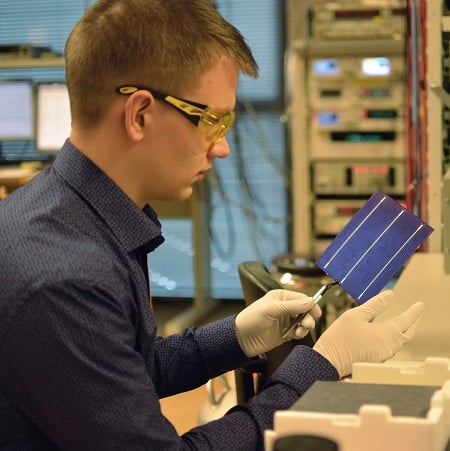 An alternate etching technique lowers solar power cell production costs. Source: Chiara Modanese, Aalto UniversityBy changing their silicon etching, the production costs of solar cells can be reduced by more than 10 percent. That's the news from a team of researchers from Aalto University in Finland.
Silicon, the standard light-capturing material used in solar photovoltaic (PV) cells, comes in both perfect crystal and multicrystalline form. The latter costs less, but it also offers lower efficiency. The efficiency of both types is reduced by the common etching used to reduce reflected light, which is what gives most solar panels their blue color.
An alternate, dry-etching nanoscale process creates a more efficient substance known as black silicon, or black-Si. The process has the effect of creating a "forest of nanoscale needles," according to Michigan Tech materials science and electrical engineering professor Joshua Pearce. "Those needles grab the light and don't let it get away. It's like looking into the eyes of Darth Vader," he says.
The drawback is that all those nano-needles represent surface defects, which could impact electrical performance. The researchers found, however, that they could mitigate that impact by treating the silicon with an atomic layer deposition (ALD) coating. And while typical thinking has been that the cost of black-Si cells produced through nano-texturing and ALD is impractical for a tight-margin industry like solar energy, the scientists discovered that the efficiency gains far outweighed the extra costs.
Moreover, they were able to start the process with the less-expensive multicrystalline silicon, and still realize an overall drop in cost per unit power of 10.8 percent.
Pearce says that the production process can still be optimized for greater efficiency, but the next step is to get the study in the hands of policy-makers in the hopes of accelerating PV manufacturing. He says that for China, which already dominates global PV manufacturing, the change to the production process would be relatively small. He also expressed hope that countries like the U.S., once a dominant force in solar power, will use the study data to guide investment and gain a competitive advantage.
Pearce completed work on the study while on sabbatical as a Fulbright distinguished chair at Aalto University. The study appears in the journal Energies.