As the smart home matures, one main concern is how to manage all the connected devices and appliances to ensure the right energy consumption and device preferences are being followed to meet owner expectations.
Setting up multiple connected appliances or devices so they coordinate with each other is a common goal in the smart home, but with each device or appliance needing its own app or control mechanism it is not so easy for consumers.
The National Renewable Energy Laboratory (NREL) may have a solution to this problem with software called Foresee that manages energy in the home among connected appliances and relies on the preferences of homeowners to control and coordinate these devices. The software asks a homeowner what is most important about living in the room and then takes those preferences into account and automatically adjusts the devices accordingly.
"Right now, if you had a smart dishwasher, a smart washer/dryer, and a smart water heater, you'd have to set up the schedule for everything yourself," said Bethany Sparn, a mechanical engineer and researcher at the U.S. Department of Energy's (DOE's) NREL. "You'd have to think about how the appliances interact with each other, the occupants, the building, and the power grid. Deciding when you should turn on your lights seems reasonably intuitive, but how should you control your water heater to reduce your utility bill and use solar energy from your solar panels, without risking your hot shower?"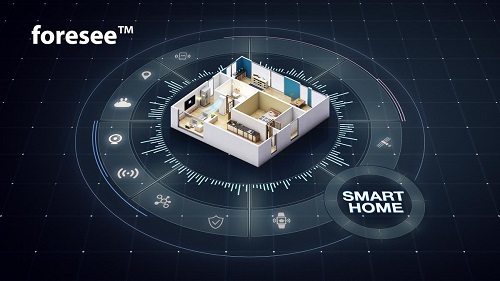 The Foresee software uses homeowners preferences to control and coordinate smart appliances. Source: NRELThe Foresee project identifies four goals of a house: comfortable air temperature and hot water, convenience, reduced costs and a low environment impact. But these goals can be different for every household.
"These four categories are hard to trade off against each other," said Dane Christensen, leader of NREL's Residential Systems Performance team and principal investigator on the foresee project. "At foresee's [sic] core is a goal of running the home in a balanced way that best serves that family's unique values and schedule. Your goals are going to be different from my family, just like a retiree on a fixed income is likely to have different goals than a millennial who just got her first job and is living large."
The software can achieve whole-home outcomes and energy savings that previously were unavailable. While energy efficient appliances have been available for years, additional energy savings can be achieved by coordinating when and how a home's appliances operate, regardless of rated efficiency.
NREL worked with Bosch Sensortec and Colorado State University to help supply a suite of appliances - an air conditioner, refrigerator, dishwasher, washing machine and dryer - in order to test the software. The team also used an electric water heater, a connected thermostat, photovoltaic inverter and a battery to capture and store electricity generated from the sun.
The software allows homeowners to pick the smart products they want from any manufacturer and allows them to increase the number of connected appliances over time. Researchers found the energy savings varied greatly depending on the climate it was tested in, but generally saved homes about 10% to 15%.
"The results are definitely significant," Sparn said. "If they can be achieved in real homes, that starts to add up to something real, especially in places such as Hawaii where electricity costs are about 3-4 times what we have in Denver."
Even 5% savings in every home would put about $10 billion back in the pockets of American homeowners and reduce the energy consumption equivalent to 12 states combined.
NREL said Foresee could find a way into a variety of homes embedded as an application in a manufacturer's product, run by a utility on a smart meter or in the cloud.
"This type of solution is a few years from being commercially available," Christensen said. "Our next goal is to find field test sites where we can go out and do some pilot demonstrations. That will give us a whole lot of data to make the software even more effective—so it can become a product and be available for people to use."