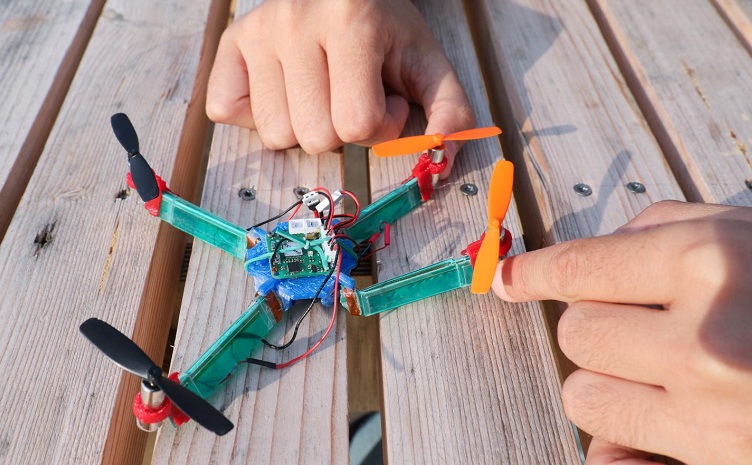 A unique combination of stiff and elastic layers lend resilience to this insect-inspired drone. Source: Alain Herzog/EPFLNot long ago, you probably wouldn't have expected to read about origami on an electronics website. But researchers in recent years have borrowed principles from the Japanese paper art that have led to innovative, light and flexible robots and drones.
Most fall into one of two camps: rigid structures with a weight-bearing capacity that breaks if that capacity is exceeded; and flexible structures that are resilient yet cannot carry much of a load at all.
Now, researchers at Ecole Polytechnique Fédérale de Lausanne (EPFL) have developed a hybrid origami drone that can adapt to both ends of a rigid-to-flexible spectrum. When airborne, it's stiff enough to carry its own weight and withstand the thrust of the propellers; if it collides with an obstacle, it can use its flexibility to absorb the shock. The scientists based their device on similarly-resilient structures from nature: insect wings.
The drone is built with a "sandwich" structure that combines rigid plates with layers of stretched elastomer membrane, similar to the relationship between the rigid cuticles and soft resilin joints that insects use for flight. The plates draw apart when enough force is applied, allowing the structure to bend. Moreover, the drone's elasticity is controllable: Folding it builds up elastic potential energy that allows it to unfold when instructed.
The researchers also used their technology to create a soft-touch gripper, which can soften when it reaches a certain level of resistance, so as not to break the object it's holding.
"The current trend in robotics is to create 'softer' robots that can adapt to a given function and operate safely alongside humans," said Dario Floreano, who heads up the Laboratory of Intelligent Systems at EPFL. "But some applications also require a certain level of rigidity…with our system, we have shown that you can strike the right balance between the two."
The research was published recently in Science Robotics.