Driven by investment and consumer enthusiasm, the global smart home market is expected to reach $123 billion by 2022, more than double the size of its $56 billion value in 2018.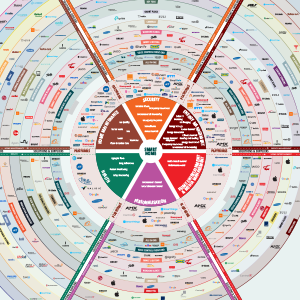 Click above to view the full infographic. Source: ABI Research.
The playing field is expanding, with a growing number of offerings competing to gain a foothold. ABI Research's Smart Home Ecosystem Graphic, which you can view in full by clicking here, identifies more than 150 vendors in six main service sectors.
Security
Energy Management
Home Entertainment and Media Management
Home Maintenance
Health
Personalization
Each sector is a key area for growth, comprised of numerous solutions ranging from voice control and smart plugs to electrical vehicle (EV) chargers and motion sensors.
Some of the largest companies in the world — such as Amazon, Apple, Google and Samsung — are actively engaged in the smart home market. But as ABI Research points out, the big guns cannot provide everything. The landscape is getting filled with nontraditional vendors, and partnerships are key.
The infographic is designed to provide vision on where vendors need to position themselves to maximize return on investment, create new revenue streams, shape their go-to-market strategies and hone in on the true competitors for mergers and acquisitions as well as product development.
"A complete look at the entire ecosystem shows how the smart home is crossing over to smart mobility and ultimately smart cities, and this will require extensive collaboration among companies; no one company can survive the smart home market alone," said Stuart Carlaw, ABI's chief research officer.
Carlaw offers the example of BMW and Tesla, both of which are getting pulled into the smart home ecosystem for connected EV chargers that are not made by big companies like Samsung. As a result, he says, "established companies must diversify and collaborate to increase their share of the smart home market."