A new inverter developed at Fraunhofer Institute for Solar Energy Systems ISE, Germany, can feed directly into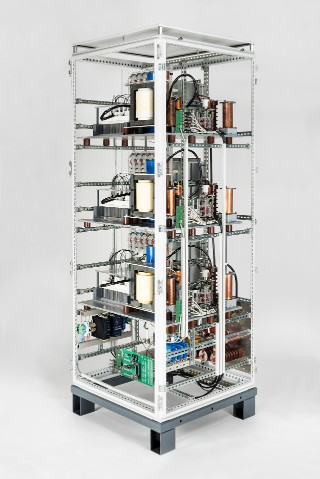 The 100 kVA inverter with 15 kV silicon carbide transistors was developed for feed-in to the 10 kV medium-voltage grid. Source: Fraunhofer ISE the 10 kV medium-voltage grid without a transformer. This capability is imparted by the use of high-voltage silicon carbide transistors in the three-phase inverter.
By regulating reactive power and filtering undesirable harmonics, the inverter contributes to the stabilization of power grids with a high share of renewables. While other means of harmonics filtering exist, high-voltage applications such as this are said to be more effective than those working at lower voltages and that require a 50 Hz transformer.
Commercially available silicon transistors have a blocking voltage of 6.5 kV, requiring more complicated component structures with a higher number of components and increased architectural complexity. With the new technology, transistors can operate with higher frequencies due to lower switching energy requirements. Power losses are also lower than for silicon transistors, resulting in better control dynamics of the inverter.
A demonstrator for feed-in to the 10 kV grid has a power of 100 kVA and frequency of 16 kHz, which is approximately ten times higher than in medium-voltage converters based on silicon semiconductors. The transistors incorporate advanced high-voltage (15 kV/10 A) silicon carbide power MOSFETs.
Applications for high-voltage silicon carbide components could include use in large solar and wind energy power systems, battery banks and railway systems.