Data Center and Critical Infrastructure
Next Up for Optical Transceivers: 400G
17 April 2018
Sponsored content
The next generation of optical transceivers is on its way, which bodes well for the growing need to accommodate large-bandwidth applications demanding high throughput and low latency.
In the data center world, interconnects ranging from 10 gigabits per second (10G) to 100G are commonly deployed — but there's no question that higher-speed capabilities will be demanded by near-future development. Already, data center operators are phasing out lower-speed transceivers of 10G and below. There has been a rapid buildup of "mega" data centers, driven by factors such as wide-area-network telco applications, enterprise augmented reality and the internet of things (IoT). Research points to the adoption of 400G optical transceivers as a fundamental technology to support these facilities.
According to a recent study, in fact, the global 400G optical transceiver market is expected to reach $22.6 billion by 2023. Global internet adoption, online commerce, streaming video, social networking, cloud services and software as a service (SaaS) all play into this trend, as does the availability and cost-effectiveness of both 100G and 400G devices.
Transceivers capable of 400G processing will be smaller, use less power, cost less and even possess more "smarts" than the familiar form factors of today. Compliant with multiple network standards, 400G transceivers continue the shift away from the utilization of discrete optical components to the design flexibility of pluggable modules. They are capable of distances ranging from very short reach, such as within a data center, to enterprise, metro and long-haul applications. In addition, they can perform over extended voltage and temperature ranges while also minimizing jitter, interference and power dissipation.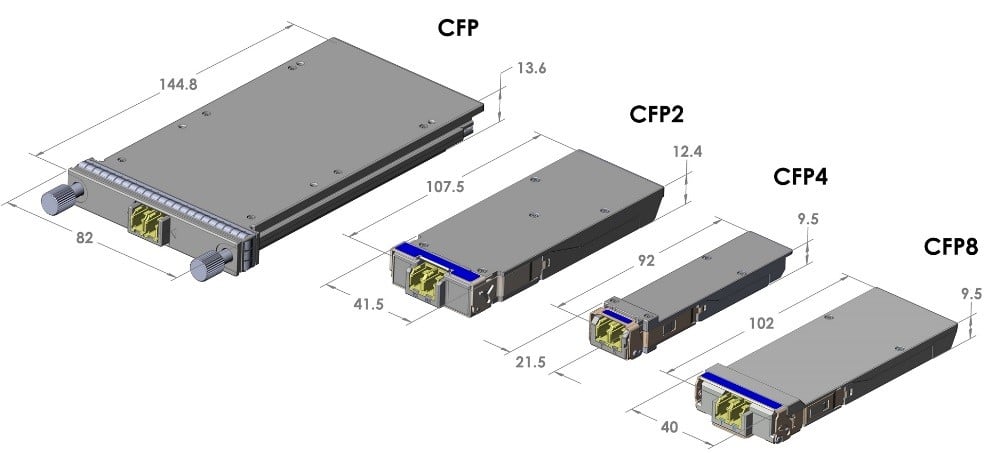 Figure 1: Variations on the C form-factor pluggable (CFP) standard. A current design for 400G makes use of CFP8, which can transmit 50G over each of eight channels. Source: CFP Multi-Source Agreement/cfp-msa.org
At the 2018 edition of the Optical Networking and Communication Conference & Exhibition (OFC), a leading global venue for the discussion of market trends and industry-shaping technologies, 400G was a hot topic.
According to a post-show report, transceiver production is targeted to begin by the end of 2018. The report also notes, however, that cost effectively replacing 100G optics with 400G will necessitate more work on design. Current 400G designs make use of eight channels — double that of 100G modules — which increases cost. The key for cost-effective deployment will be sufficiently increasing baud rate to the same amount of information to be carried over just four channels. That's a challenge the OFC report predicts to be solved during 2019.
As always, Precision Optical Transceivers will be on the cutting edge of developing technology, offering forward-looking and future-proofing products to its customers. To find out more, visit the Precision Optical Transceivers website.
Find Free Electronics Datasheets