When we think about the potential loss of jobs based on the rise in the number of robots that will be doing them, we are typically discussing repetitive manufacturing jobs, those that represent a danger to humans, and even low-level healthcare and customer service jobs. Research firm Gartner predicts, however, that approximately one-third of all jobs will be replaced by robots and smart machines—within the next ten years.
If that is true, what will happen to employment on a global basis if robots do take over? How many jobs will actually be lost and what will humans do? With the cost of a robot plummeting into the $20,000 range, it doesn't take rocket science to see why they are preferred on a cost basis when compared with their human counterpart.
So far the human wannabes are unable to deliver the creative thought and judgment involved in top jobs, but they can assist in performing them to a certain level before the human steps in, reducing the total number of employees required.
Oxford University conducted a comprehensive study, analyzing a total of 702 jobs, concluding that 47 precent were at risk in the man vs. robot evolution. Based on algorithm and sensor advances made very evident with IBM's robot Watson, barriers formerly apparent are beginning to be shattered. The advanced capabilities found in today's modern robots are rapidly moving them up the job food chain. According to the Oxford study, high-end jobs that can be revamped to eliminate the need for high-level human participation, social intelligence and creativity are the ones that will be performed by robots first. The study points to transportation, administrative and logistics positions as those that will be the first to go.
Then what?
In addition to manufacturing robots, your next smiling Amazon box may be delivered by self-driving vehicles. Self-driving cars and trucks will potentially cost millions of jobs as drivers are replaced. Already there are corporate campuses with short-distance driverless shuttles. These robotic cars, trucks and even tractors are no longer "down the road" as early versions exist now. And the trend will continue. Uber, for example, has announced that it will build robotic cars, stating that its technology will be ready in just a few years.
I watched with amazement a few years ago, when IBM's Watson robot beat the reigning Jeopardy elite. Once Watson won, its stardom was rapidly put to work providing intelligence and advanced analytic capabilities to the healthcare industry, where IBM Watson Health is pioneering cognitive computing. According to IBM, "Cognitive systems that understand, reason and learn are helping people expand their knowledge base, improve their productivity and deepen their expertise. With cognitive computing, we are now able to see health data that was previously hidden and do more than we ever thought possible." Are surgeons and medical diagnostic pros going to go away? No. At least in the short term, they will become better at their jobs and have greater precision and repetitive capabilities.
The Amazon model
Amazon is often held up as an example of a company where robots are creating jobs for humans. An article titled, "Think Robots Will Inevitably Take Your Job? Amazon Proves Otherwise" in The Motley Fool, for example, claimed that Amazon's purchase of warehouse robot provider Kiva Systems in 2012 actually provided jobs. The theory was that, post purchase, Amazon hired 70,000 temporary workers with thousands expected to become full-time employees. The jobs involved having individuals pull items from bins that are moved via robots.
Fast forward to February 2016 and another Motley Fool article, "A Robot is Coming to Steal Your Job," indicates that 7.1 million jobs would be lost to automation and automatons by 2021, and only 2 million replacement jobs gained. The article uses Amazon again as an example, citing Amazon's use of 1,000 Kivas initially, then 10,000 robots, and now the number is 30,000. According to the article, "To put that in context, Amazon only has 90,000 humans working in its warehouses. As of today, one in every four full-time Amazon warehouse workers...is a robot."
Amazon aside, the party line from the robot world is that there have always been new jobs to replace the ones technology eliminates. In a recent IHS article, "2030—Ray Kurzweil's Predictions or Bill Joy's Fears?," Kurzweil, Google's director of engineering "…admits that jobs that exist now will be going away as robots do our work for us, yet he's convinced that not only will there be new, albeit yet unidentified new jobs, those jobs will move us up Maslow's hierarchy so that we have time to do things that give us personal gratification and have a high standard of living for everyone…"
Global robot realities
Are jobs being lost globally now? Germany has been able to bring manufacturing back into the country based on the high density of industrial robots in use. The United States is also hoping to bring back manufacturing from China by using robots to mass-produce self-driving vehicles, medical devices and more.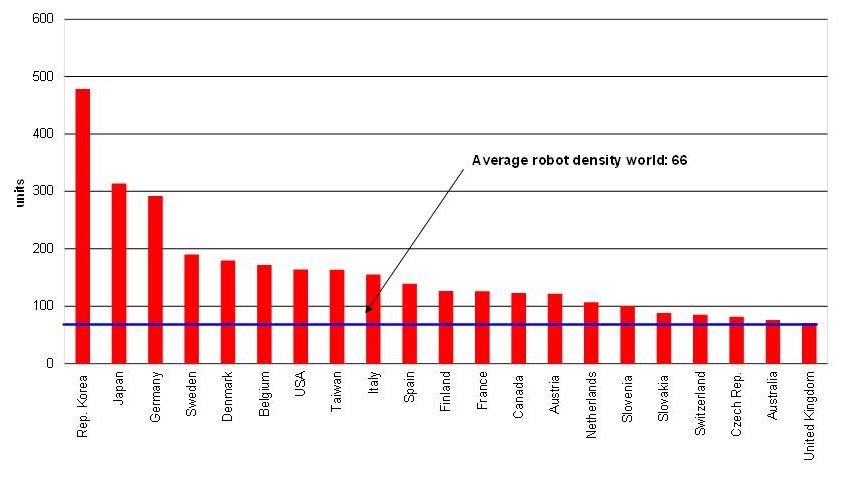 Robot Density—the number of multipurpose industrial robots per 10,000 employees in manufacturing in 2014. Source: World Robotics
China is fighting back with fully automated robotic factories that it hopes will allow it to hold onto its manufacturing industry. If it can keep supply chains in China, it can stay cost-effective.
According to World Robotics, by 2018, global sales will hit 400,000 units; 1.3 million new industrial robots will be installed in global factories. The company estimates that the worldwide stock of operational industrial robots will increase from 1,480,800 units in 2014 to 2,327,000 units at the end of 2018, citing automotive parts suppliers and the electrical and electronics industries as the main growth drivers.
If jobs are lost…
Why would robots not be preferred employees? There is no robot union, no coffee and restroom break necessary, and they do not tire even if they work around the clock. They only cost money at the outset and for maintenance; they provide amazing efficiency but don't complain. Can we say the same about humans?
While I am amazed, entertained and overwhelmed by the capabilities of robots and understand that their use is extremely beneficial in many cases, if they actually do cause a job deficit, there are questions that must be considered. Especially in this election year in the United States, for example, it is important to at least look at one ramification of the dramatic increase in robot use. If jobs do disappear as a result, what will be the shortfall in income taxes? It will be interesting to see if this can be offset, and if so, how.
In addition, goods may be cheaper as a result of a robot workforce, but what will their effect be on humans? There will be an effect not only on the obvious loss of wages; and even if robots just minimize the number of hours worked, what will people do with their time? What will be the psychological effects? There are many questions to consider.