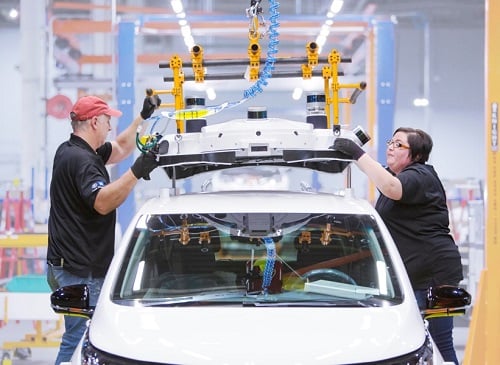 Workers assemble a Cruise autonomous test vehicle. Source: GMGeneral Motors will build production versions of its Cruise autonomous vehicles that it plans to commercialize by 2019 at its Orion Township assembly plant in Michigan.
The first vehicles will be built from the ground up to operate safely on their own with no driver, steering wheel, pedals or manual controls. The roof modules for the self-driving cars will be built and assembled at GM's Brownstown plant and GM says it will spend $100 million to upgrade both facilities.
GM says the roof modules at the Brownstown plant have already started production, and production of the fourth-generation Cruise AV is expected to begin in 2019.
Three generations of the Cruise AV self-driving test vehicles have been assembled at the Orion plant for pilot test programs that have been running across the U.S. In all, more than 200 test vehicles have been assembled at the Orion facility.
The roof modules will integrate equipment such as LiDAR, cameras, sensors and other hardware. The Orion plant will continue to build the Chevrolet Bolt electric car and the Sonic in addition to the Cruise self-driving vehicle.