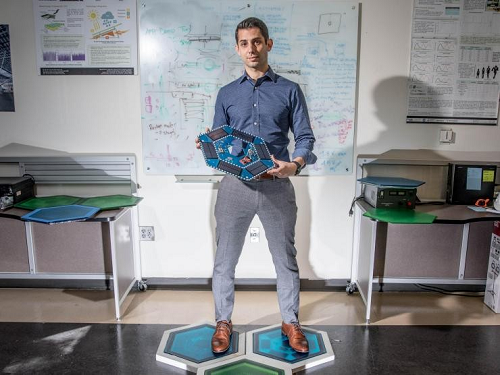 Ilan Stern, a senior research scientist at the Georgia Tech Research Institute, stands on piezoelectric tiles that will be used to create a lighted outdoor footpath at the NASA Kennedy Space Center's Visitor Complex. He's holding the electronic components used in the tiles. Source: Branden Camp, Georgia Tech
Visitors to NASA Kennedy Space Center's Visitor Complex at Cape Canaveral, Florida, will soon be power producers for the facility, thanks to piezoelectric pavement now under construction.
A 40,000-square-foot lighted outdoor footpath demonstrating piezoelectricity technology is being designed and developed by Georgia Institute of Technology researchers and NASA contractor Delaware North Corporation.
A system of custom electronics, including circuit boards, six mini solar panels, a battery, LEDs, a Bluetooth transmitter, a Wi-Fi transmitter, micro controllers and the piezoelectric element will be housed in floor cavities composed of thin, ultra-high-performance concrete. The piezoelectric component is a thin ceramic disk of lead zirconate titanate, which yields a small electric charge when flexed or vibrated.
Glass floor tiles covering the cavities are designed to operate on three power sources: piezoelectricity, solar panels and a small rechargeable lithium battery for energy storage and use at night. The self-powered system, when triggered by a human footstep, produces a wireless signal that informs visitors about NASA space missions, piezoelectric technology and science collaborations between NASA and Georgia Tech.
"No one has made anything like this — an outdoor tile system using a piezoelectric element to trigger customized and off-the-shelf electronics and coupling them for human interactions," said Ilan Stern, a senior research scientist with the Georgia Tech Research Institute. "When you step on the load-bearing glass tile, it compresses the piezoelectric element, creating an electrical charge that lights up the cavity's 125 LEDs."
In the entire footpath, about one thousand glass tiles light up in various colors. Each glass tile is a pixel in the pathway's mosaic imagery of Earth, Mars, the moon and the International Space Station.
"The piezoelectric element also powers a Wi-Fi or Bluetooth signal to visitors' smartphones, which can play audio, providing information about their geolocation and for potential wayfinding," said Stern. "The audio provides information such as how much energy is being generated throughout the park during the day."