A faster collision detection algorithm developed by electrical engineers at the University of California San Diego helps robots avoid moving objects and navigate through complex environments. The Fastron algorithm performs up to 8 times faster than existing collision detection algorithms.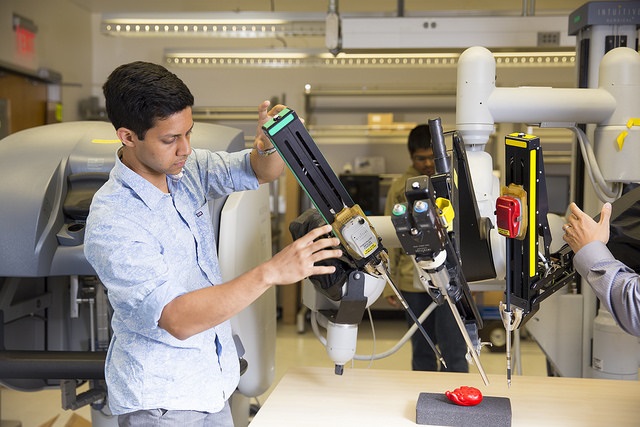 Fastron is a faster detection collision algorithm that could enable robots to perform assistive tasks more fluidly in the operating room. Photo credit: UC San Diego Jacobs School of Engineering
The scientists are aiming to implement the technology into robots that are used in human environments, such as operating rooms. For example, a robotic arm could autonomously assist with surgical tasks without disturbing the patient's organs. Fastron may also be used in robots used in assisted living applications, as well as in computer graphics for the gaming and movie industry, where collision checking is frequently a bottleneck for most algorithms.
Existing collision detection algorithms are slower because they are computation-heavy; they specify all the points in a given space and perform collision checks on each. In contrast, the UC San Diego team employs a minimalistic approach. Rather than performing collision checks on each point in the configuration space, as other algorithms do, Fastron selects checks near the boundaries. Just a few points represent the entire space. After it classifies the collisions and non-collisions, the algorithm updates its classifier and carries on.
Because Fastron's models are more simplistic, the researchers set its collision checks to be more conservative. Just a few points represent the entire space, so it's not always clear what's happening in the space between two points. The team decided to build a risk-averse model and developed the algorithm to predict a collision in that space.