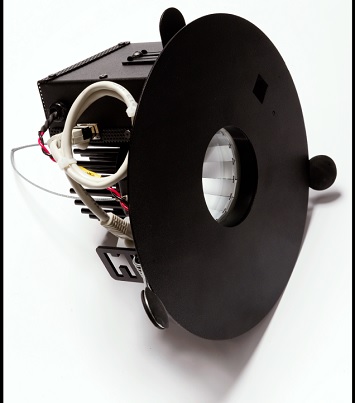 Source: pureLiFiSince IEEE released 802.11a — the first Wi-Fi standard — in 1997, wireless networks have become a mainstay in information technology (IT) infrastructure. Wide adoption of Wi-Fi resulted in vast network improvements. And even though the latest standard, 802.11ac, delivers gigabit speeds, the technology still suffers from limited bandwidth and signal interference, since Wi-Fi exclusively operates over 2.4 GHz UHF and 5 GHz SHF ISM radio bands. While several other wireless protocols exist, including Bluetooth, ZigBee and WiMax, no other wireless network has made a breakthrough in data transmission speeds as significant as that exemplified by Li-Fi.
What is Li-Fi?
Light fidelity (Li-Fi) is a visible light communications system that utilizes smart light-emitting diodes (LEDs) for optical data transmission. The wireless optical networking technology consists of Li-Fi bulbs and photoreceptors. The Li-Fi bulbs are equipped with a chip that modulates the light source while the photoreceptor converts the modulated signal into a binary data stream. The rapid dimming frequency is not detectable by the human eye, while it allows for unprecedented wireless data transfer speeds.
Pros and Cons
The use of visible light for data transmission comes with both advantages and disadvantages. Li-Fi boasts speeds up to 100 times faster than standard Wi-Fi at 224 gigabits per second. It does not compete with alternative VLC technologies so there is nearly limitless bandwidth. It also provides enhanced security and remains unimpeded by radio interference, allowing for faster connectivity and secure data transmissions.
Li-Fi's drawbacks include a limited range, hardware requirements and the need for the lights to remain on. Cross-talk only occurs through the line of sight, but with the implementation of smart lighting infrastructure the technology can operate over a mesh network without interruption as devices talk to a network of smart LEDs and not a single LED bulb.
Target Applications
Li-Fi is not destined to have the same ripple effect as the latest Wi-Fi standard. It is not interoperable with existing infrastructure, and for residential applications where power over Ethernet (PoE) or power-line communication (PLC) lighting is not yet available, the technology is even more limited. It is, however, well- positioned to support next-generation building automation systems complementing Wi-Fi.
pureLiFi and Lucibel
pureLiFi has teamed up with the French luminaire company Lucibel to launch the world's first industrialized Li-Fi solution that has been available since September 2016. The partnership is a win-win scenario as it opened up new markets for Lucibel while expediting pureLiFi's time to market.
The Li-Fi integrated luminaire, Ores, pairs with the LiFi-X dongle to provide a fully networked, bidirectional LiFi-X system. Each luminaire in a connected smart lighting system acts as an access point with either (POE) or (PLC) cabling. The LiFi-X dongle connects to mobile devices and laptops using USB 2.0.
The technology enables architects, property developers and tenants to deploy secure high-speed wireless connectivity alongside an integrated smart lighting system. There have been multiple developments across Europe including the Microsoft headquarters in Paris. One of Lucibel's customers, Nexity, is also now offering Li-Fi as a wireless communication option in future real-estate projects.
Resources: