Firefly LiFi, a manufacturer of Visible Light Communications (VLC) LiFi products, announced at the CES 2018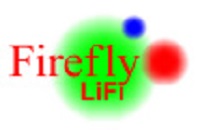 show in Las Vegas that its LiFi technology is shipping now, and has been tested at speeds surpassing all other commercially available LiFi systems. LiFi, a new technology emerging in the consumer electronics and industrial wireless industries, uses light to transmit data instead of radio frequency methods, such as WiFi.
Firefly's LiFi technology is applicable for both highly secure indoor wireless communications — such as internet of things and consumer electronics wireless connectivity — and license-free outdoor 5G backhaul applications, supporting ubiquitous wireless coverage in metropolitan telecom carrier environments without the need for radio frequency spectrum or licensing. Firefly also has LiFi patents in the automotive and transportation sector.
Firefly LiFi also announced that the products will be exhibited at the Global LiFi Congress tradeshow and conferences in Paris, France, February 8th and 9th.