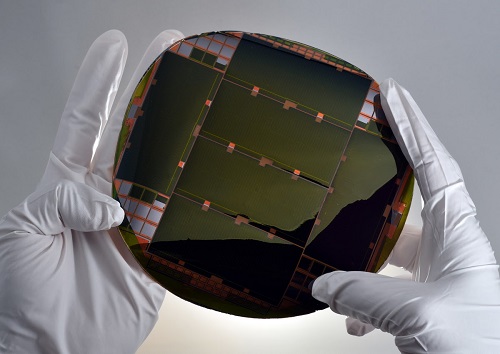 A 6-inch high-efficiency, lightweight and flexible ELO IMM solar cell wafer. Source: MicroLink DevicesThe U.S. Department of Energy's (DOE) National Renewable Energy lab (NREL) has formed a partnership with MicroLink Devices Inc. to commercialize NREL's inverted metamorphic (IMM) multi-junction solar cells that are used in space satellites.
The IMM technology allows multi-junction III-V solar cells to be grown with both higher efficiencies and lower costs than traditional solar cells by reversing the order in which individual sub-cells are typically grown.
NREL says the IMM architecture allows for a greater power extraction from the higher-bandgap sub-cells while also allowing for more efficient low-bandgap sub-cell materials such as Indium Gallium Arsenide. IMM devices are also removed from their growth substrate, allowing the substrate to be reused over multiple growth runs. Removal of the substrate also reduces the weight of the solar cell, something that is especially important in unmanned aerial vehicles.
MicroLink specializes in removing active semiconductor device layers from their growth substrate through an epitaxial liftoff (ELO) process. Using this process, MicroLink will be able to make thin, lightweight and flexible IMM solar cells that will be used in UAVs, space-based vehicles and equipment and portable power generation applications.
"IMM makes multi-junction solar cells practical for a wide variety of weight-, geometry-, and space-constrained applications where high efficiency is critical," says Jeff Carapella, one of the researchers in NREL's III-V multi-junction materials and devices research group that developed the technology.
NREL and MicroLink have collaborated to evaluate the use of ELO for producing IMM solar cells since 2009 and those cells produced with this method have demonstrated multiple successful substrate reuses and efficiencies exceeding 30%.