Electromagnetic compatibility (EMC) is a key and sensitive topic for system and equipment manufacturers and their suppliers in a wide variety of industries, including automotive, aerospace, defense, communications, railway, consumer electronics, energy and healthcare. These industries have worked tirelessly the last two decades to make their products smarter through the integration of electronic, electrical and communication systems and components. In addition, the number of antennas on such systems is growing, which is leading to the design challenge of fitting more and more electronic devices and circuits into smaller areas while still maintaining EMC.
Critical electronic, electrical and communication systems and components are now routinely in close proximity to each other and exposed to electromagnetic signals varying from low (kHz) to high (GHz) frequencies, often at the same time. The potential for electromagnetic interference between systems and devices has never been greater, while the function of electronics and communication systems has never been more important to operation and safety. As the number of electronic systems increases, laboratory testing of electrical systems for EMC becomes challenging.
Companies need to ensure their products function properly in their electromagnetic environment without introducing electromagnetic disturbances that interfere with other systems, while still fulfilling the growing number of EMC standards and regulations. Such standards and regulations are developed by international bodies like the International Electrotechnical Commission (IEC) and the International Organization for Standardization (ISO). In civil aviation there is the Radio Technical Commission for Aeronautics (RTCA) and the European Organization for Civil Aviation Equipment (EUROCAE). Military equipment and systems additionally must conform to military standards. While government organizations are regulating these standards, some equipment manufacturers can have their own stricter standards. EMC simulation software adds design flexibility and reliability at a sustainable cost for an increasingly complex EMC regulatory environment.
EMC in Aircraft and Automobiles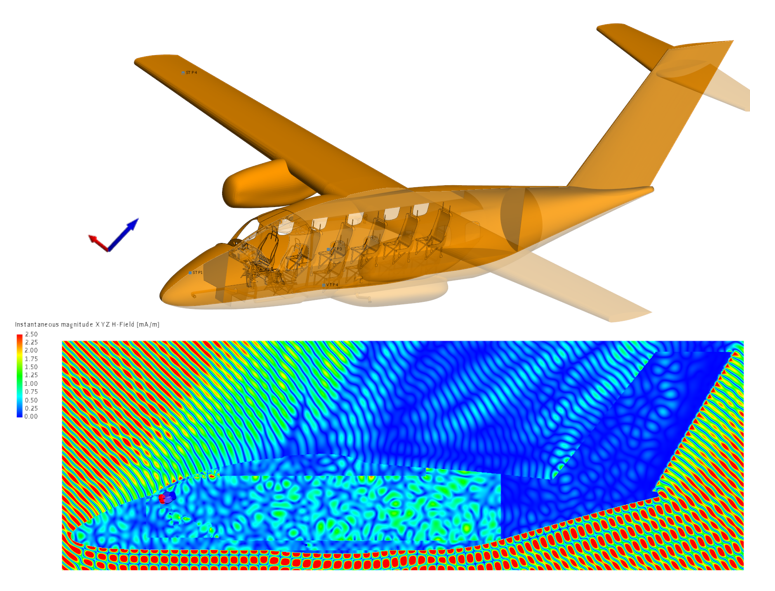 Figure 1. View of aircraft in FEKO (above) and magnetic field strength at 1 GHz computed by FEKO (below). The aircraft geometry is part of the CEMEMC workshop and corresponds to a morphed version of EV55, intellectual property of EVEKTOR, spol. s r.o. and the HIRF SE Consortium (HIRF-SE FP7 EU project). (Source: Altair Hyperworks)Two industries where the growing impact of EMC is challenging are automotive and aerospace. Automobile and aircraft designers are increasingly using electromagnetic simulation software for the analysis and design of antennas, communication, electrical and electronic systems that are compatible. Typical applications in automobiles can include FM and TV broadcasting, remote keyless entry systems, tire pressure monitoring system (TPMS), wireless communications, wireless power transfer, radar collision avoidance, GPS, Bluetooth and many others. Aircraft have their own increasing complexity as autonomy and enhanced pilot technology, such as heads-up displays, navigation signals (TACAN, VOR), friend or foe identification (IFF) and other systems are increasingly integrated. Individual components that meet all standards when brought together in such a condensed and complicated environment can fail as a system to meet necessary standards. Undesirable emissions produced by circuitry, sensors and communications devices can cause electromagnetic interference (EMI). Electronics and electrical systems are susceptible to interference and designers need to understand their electromagnetic susceptibility/immunity (EMS) in order to successfully integrate components. Analysis and protection against High Intensity Radiated Fields (HIRF) is a key and sensitive topic in several industries including aerospace. In Figure 1, an aircraft is illuminated by a plane wave in free space where the electric and magnetic fields are simulated at specific points on and in the aircraft and induced currents on the cables are calculated from 100 kHz to 1 GHz
The cost of redesign coupled with the delay in time-to-market makes early identification of potential issues imperative. The use of simulation software early in the design process allows designers to get systems up to standards before testing even occurs. The EMC simulation software assists designers with analysis of antennas, antenna arrays, antenna placement, interference analysis investigation of radiated electromagnetic emissions and immunity, compatibility, and shielding analysis.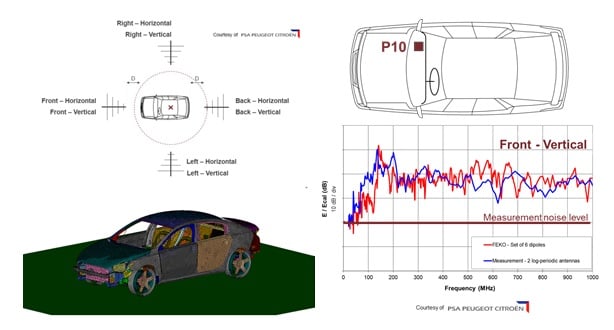 Figure 2. Full vehicle simulation test with ISO 11451-2 substitution method. Left: Simulation cases and view of meshed vehicle in FEKO. Right: Simulations vs. measurements for Position P10. More detailed information can be found in reference M. Klingler, S. Ben Hassine & Y. Merle, "Comparisons Between Time-Domain and Frequency-Domain Simulations Applied to an Entire Vehicle – Workshop presentation – 9th International Symposium on Electromagnetic Compatibility", EMC Europe 2010, Wroclaw, Poland, 13-17, September, 2010. (Source: Altair Hyperworks)EMC simulation can be very specific with simulations including car model and test environment, special modelling tools for windscreen antennas, , model decomposition to replace complex sources and receivers (for example, antennas or PCBs) with equivalent sources to solve large, complex problems more efficiently and allow the designer to make changes in the early stages of design where the costs and impact on time-to-market are lowest.
The Advantages of EMC Simulation
EMC is still measurement driven, although that is changing more and more as companies seriously look at establishing simulation-driven design and validation. As the number of prototypes grows due to the increased variety of vehicles and packages offered, companies are realizing that simulation is necessary to keep design time manageable.
Design flexibility also becomes critical as preliminary validation before hardware prototypes, helping to make design decisions earlier. This is especially important for problems related to EMC at the end of the development cycle which can be difficult and costly to fix. Finally, companies are realizing that EMC simulation software leads to improved designs that are able to integrate more efficiently and lead to better guidelines thus accelerating product innovation. All of this is achieved with significant cost savings, as laboratory testing can be reduced to just assuring standards compliance. Laboratory testing can be expensive, whether done in house or externally, so less physical testing means more money for research and development.
There is a trend towards increasing complexity and integration of electronics, electrical and communication systems and components. Whether driven by the advances in vehicle autonomy, or the variety of wireless services that are quickly become standard features, the trend is towards more antennas and circuits in closer proximity.
EMC has always been an important aspect of design, but going forward it is becoming more of a challenge. Built-in heads-up displays, a car passenger's smartphone, the GPS system, Bluetooth and hundreds or thousands of other systems must work together and meet internal and external standards of performance. Competition is leading to an increase in the variety of choices and specialization offered, which means the number of vehicle models and packages are increasing. This is leading to an exponential increase in the complexity with respect to EMC.
Software that is able to simulate EMC in a way that accurately models test environments and vehicle configurations is clearly an essential aspect of the design future in these industries. The introduction of EMC simulation software is and will be much more critical to keeping development costs down and time-to-market manageable going forward.