Silicon carbide (SiC) power devices are gaining traction due to their higher efficiency relative to silicon-based devices. SiC transistors also lose less power (7 percent) while conventional silicon transistors lose 10 percent of their energy to waste heat.
These newer devices can also switch at a higher frequency, which translates into electronics with smaller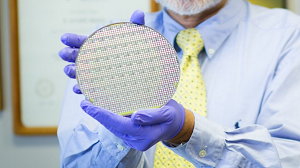 Silicon carbide devices, like the one shown here, are more efficient than their silicon counterparts. Source: North Carolina State Universitycapacitors and inductors—allowing designers to create smaller, lighter electronic products.
So why isn't everyone using these power devices? Existing manufacturing processes are proprietary, preventing other companies from producing them and keeping device costs high.
A solution from North Carolina State University researchers is intended to increase innovation and allow other firms to enter the SiC field. PRESiCETM is a new manufacturing process and chip design developed to make it easier for companies to enter the SiC marketplace and develop new products.
"PRESiCETM will allow more companies to get into the SiC market, because they won't have to initially develop their own design and manufacturing process for power devices—an expensive, time-consuming engineering effort," says Jay Baliga, Distinguished University Professor of Electrical and Computer Engineering at NC State and lead author of a paper on PRESiCETM that will be presented later this month. "The companies can instead use the PRESiCETM technology to develop their own products. That's good for the companies, good for consumers and good for U.S. manufacturing."
The researchers worked with a Texas-based foundry called X-Fab to implement the manufacturing process and have now qualified it—showing that it has the high yield and tight statistical distribution of electrical properties for SiC power devices necessary to make them attractive to industry.