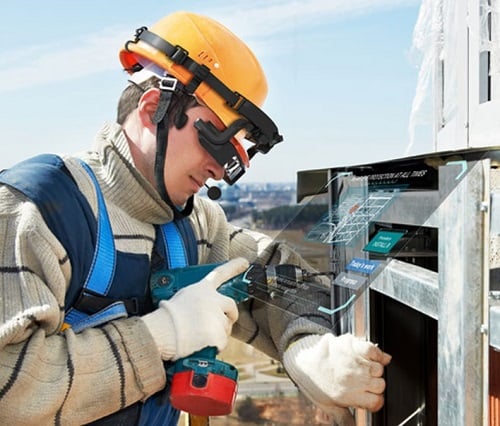 Epson's Moverio smart glasses give workers hands-free support and better ways to control drones. Source: EpsonWearable technology has reached a point where it has become nearly as ubiquitous as smartphones. Smart watches, healthcare monitors, fitness trackers and other gadgets have invaded and become a part of our daily lives. Many people just put these devices on as an ordinary aspect of life and use the technology to enhance routine activities.
But in the construction field, wearables are still in a nascent phase.
Today, most wearables are smartphone related. For construction workers, ruggedized versions of smartphones have been developed that are multiple drop-and-shatter resistant but also better rated for environmental concerns. In some circumstances, these smartphones have the ability to withstand the impact of fluids, such as oil, or in other niche cases are designed to avoid triggering explosives.
However, according to Ian Fogg, senior director of mobile and telecom at IHS Markit, wrist wearables that could become an invaluable tool in a workplace setting are beginning to emerge in the construction market.
Many of these wrist wearables have biometric functions and offer harsh chemical detection to provide an extra layer of safety that otherwise wouldn't be available to workers.
"You could see these functions on a smartphone but it depends on if the smartphone is in the right pocket or the right place," Fogg tells Electronics360. "But if you had it on a wearable device, you can be sure that the device is being worn and it can be wired to the construction office for monitoring. That type of wearable can really help in determining unsafe working conditions or to determine worker location and status."
Smart Glasses and Augmented Reality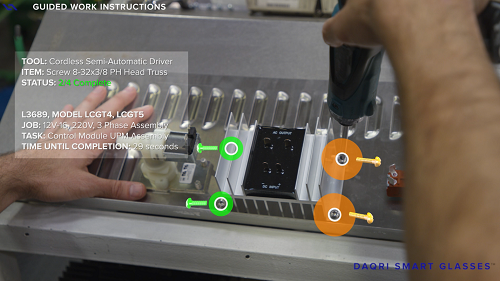 Augmented reality through smart glasses or smart helmets can help workers find the right path to get a job completed quicker. Source: Daqri One emerging technology for construction is in the realm of smart glasses and augmented reality (AR), where workers, project owners or builders can better visualize 3D construction projects and better understand 2D construction blueprints.
Fogg says there are two types of glasses emerging: one that displays over a worker's field of view with augmented reality (AR) and one without AR but with a heads-up display on the side of a worker's field of view. Fogg sees both of these having slightly different benefits and both having potential in construction.
Augmented reality-enabled smart glasses could play a role in allowing foremen to receive transparent AR imagery or detailed construction specs such as plumbing and electricity floor plans overlaid over the project areas to avoid mistakes. These glasses could also be used for remote support and troubleshooting such as installing HVAC or complex equipment.
"The beneficial use cases are endless, and app developers will be inventing many more in the months and years to come," says Eric Mizufuka, product manager for new ventures at Epson America. "Smart glasses will create new efficiencies, reduce errors and help meet project deadlines."
Epson, through its Moverio smart glasses, is enabling wearables in construction for use in drones that survey, provide remote job monitoring, give client updates, perform aerial inspections and more. Currently, drone pilots must look down at a smartphone or table to view a drone camera feed. The Moverio BT-300 smart glasses provide a transparent, heads-up display of the drone camera feed while allowing the pilot to maintain a visual line of sight of the drone.
This allows workers to adhere to FAA regulations while enhancing the view of hazards such as trees, poles and buildings as well as getting better camera views of the construction site.
Furthermore, AR-enabled smart glasses offer a way to conduct remote support by viewing AR imagery hands-free, eliminating the need to hold up a camera, smartphone or tablet.
"In the construction industry, this is a huge benefit where hands are either busy working, inside large gloves, or are dirty from debris," Mizufuka says. "The glasses also offer unique training opportunities and the option to walk workers through problems without having to physically visit the site."
Another company delving into this segment is Daqri, who is developing an AR-enabled smart helmet to give workers distributed information and situational awareness outside of a control room and reduce the amount of movement needed at a location or project.
The Daqri helmet includes thermal vision to visualize, record and analyze temperature data in a real world environment but also augmented instructions on the job so workers can expedite jobs quickly and make fewer errors. Additionally, much like Epson's Moverio glasses, it allows workers to receive and give assistance that is displayed directly in the point-of-view to resolve issues or concerns quickly.
Exoskeletons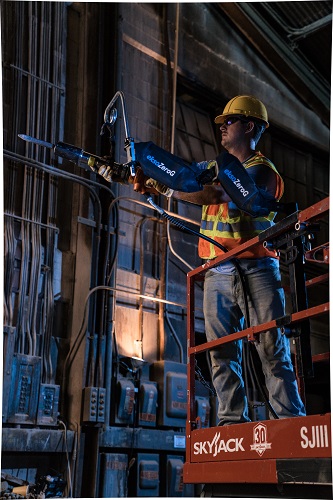 The EksoZeroG exoskeleton can lift 35 pounds and support a variety of tools. Source: Ekso Bionics Another emerging trend in wearables is the advent of exoskeleton technology in construction. The benefits to using exoskeleton technology are that it helps reduce the amount of strain on workers' bodies, reducing the likelihood that they will sustain a serious injury or overuse their bodies when completing jobs with traditional methods.
Exoskeletons, such as those being developed by Ekso Bionics, increase productivity on the job, sometimes as much as a 3x increase, because workers aren't fatigued and taking short breaks every few minutes, completing tasks in significantly less time.
"Because workers aren't getting fatigued by wrestling with the weight of the tool over the course of the day, in many cases we see an improvement in overall craftsmanship from the beginning to the end of a project," says Zach Haas, product manager at Ekso Bionics. "Jobs get completed to a higher level of quality, in a shorter amount of time, with higher worker morale, all while reducing the number of workplace injuries."
Ekso's EksoZeroG exoskeleton is capable of lifting up to 35 pounds making heavy tools such as rivet busters and rotary hammers feel light while reducing the wear and tear on the body of the operator reducing injuries and saving workers energy, Haas says. The exoskeleton can be used with equipment such as rivet busters, demo hammers, chipping hammers, impact wrenches, rotary hammers and grinders.