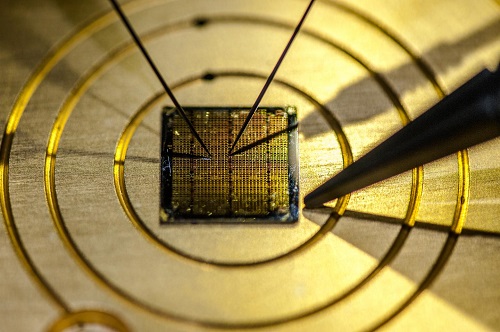 A closeup of a gold microchip. Image credit: Lancaster University
Imported counterfeit and pirated goods around the world cost nearly half a trillion dollars in lost revenue. These can be anything from fake cars, fake medicine, fake gadgets and everything in between.
Not only is this frustrating, but counterfeit medicine can also cost lives, or in the case of the Internet of Things, result in a breach of trust and security.
To counteract this, researchers at Lancaster University are exploring using quantum technology to potentially make counterfeiting of parts in some industries impossible. Researchers have created an atomic-scale ID based on the irregularities found in 2-D materials like graphene.
Quantum physics amplifies these irregularities, making it possible to "fingerprint" simple electronic devices and optical tags. Through a smartphone app, the technology can read whether a product is real or fake as well as check the authenticity of a product through the phone.
It works by scanning the optical tag on a product with a smartphone, which will match the 2-D tag with the manufacturer's database. This could potentially eradicate product counterfeiting and forgery of digital identities—two of the costliest crimes in the world.
"It is wonderful to be on the front line, using scientific discovery in such a positive way to wage war on a global epidemic such as counterfeiting, which ultimately costs both lives and livelihoods alike," says Robert Young, a professor at Lancaster University.
The technology is slated to be available in the first half of 2018 and can potentially fit on any surface of any product.