An intrinsically safe wireless flow transmitter that wirelessly forwards flow data anywhere in the world with an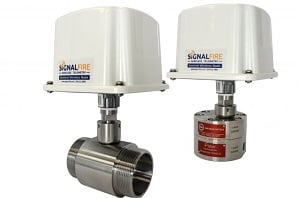 (Source: AW-Lake Company) internet connection has been launched by AW-Lake Company (Oak Creek, Wisconsin) in collaboration with SignalFire Wireless Telemetry (Hudson, Massachusetts).
The device integrates AW-Lake's TRG turbine or JV-CG or JV-KG positive displacement flow meter with a SignalFire sentinel radio node. The new wireless flow meter works in a mesh network to send data via Modbus to a Gateway where it is transferred to a personal computer, programmable logic controller or other control system. The wireless radio nodes install themselves automatically in the network and adapt to changes such as data volume, radio transmission conditions, and power source conditions. Industrial, scientific and medical (ISM) bands sustain radio signal strength through terrain, structures, or weather for a range of up to a ½ mile.
Ideal for applications with a limited power source or no power at all, the SFS-WP Intrinsically Safe Wireless Flow Transmitter incorporates an internal high capacity lithium battery that powers the passive inductive flow sensor and radio node for years, even in low temperatures. The flow transmitter can be configured for check-in intervals between five seconds to one hour to save battery life.
The wireless flow transmitter installs anywhere in minutes with an easy thread-installation without the need for expensive cabling.