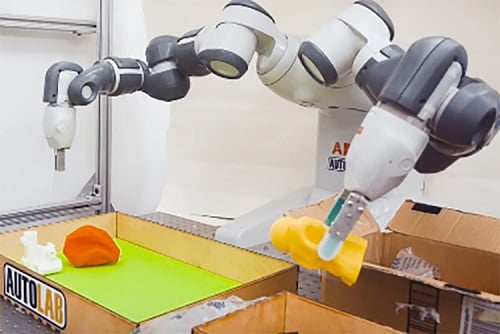 DexNet 2.0 uses deep learning to identify a shape in front of it and how to grasp it precisely. Source: UC BerkeleyPicking up objects of varying size and shape may not be a complicated task for humans but for robots it is a struggle to know where to apply the precise grip.
However, researchers at the University of California, Berkeley have now built a robot that can pick up and move unfamiliar, real-world objects with a 99% success rate.
Called DexNet 2.0, UC Berkeley's Laboratory for Automation Science and Engineering (AUTOLAB) developed the robot to see if it could improve how robots can be applied in the industrial space in order to change manufacturing and the supply chain.
The robot uses deep learning built upon a database of 3-D shapes (6.7 million data points in total) and uses a neural network when connected to a 3-D sensor and a robotic arm to learn to grasp objects. When an object is placed in front of the robot, it studies the shape and selects a grasp that will pick it up and move the object 99% of the time. It is also three times faster than a previous version developed by UC Berkeley's AUTOLAB.
Learn more about the DexNet project by visiting the UC Berkeley AUTOLAB web site.