A new cathode material for lithium iron phosphate rechargeable batteries offers high voltage that could previously only be achieved by cobalt-based materials.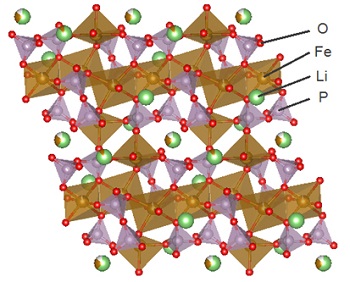 Crystal structure of the new material. (Source: Fujitsu Laboratories Ltd)
Possible future shortages of the rare metal raise concerns over the ubiquitous use of cobalt in high capacity and high-voltage lithium rechargeable batteries for electric vehicles (EVs) and home storage batteries. Likely cost increases are generating interest in abundant and cheap iron to replace cobalt, but iron could not offer voltage comparable to that of cobalt-based materials.
Fujitsu Laboratories (Kawasaki, Japan) has discovered a new factor that can improve the voltage of iron-based materials. Using a proprietary materials design technology as well as a technology that precisely controls the composition of raw materials and the formation process of materials, Fujitsu Laboratories has successfully synthesized lithium iron pyrophosphate (Li5.33Fe5.33(P2O7)4). This phosphate-based material has a voltage of 3.8 volts, comparable to that of existing cobalt-based materials, as demonstrated with a coin-shaped prototype battery.
This material has an even higher voltage than previously developed iron phosphate-based materials, represented by lithium iron phosphate (LiFePO4). The charge capacity of the prototype coin battery is about 105 milliamp hours per gram, which accounts for approximately 75 percent of the theoretical value of 139 milliamp hours per gram (Li5.33Fe5.33(P2O7)4), or the actual value of 137 milliamp hours per gram (LiCoO2). Through continued analysis, Fujitsu Laboratories plans to further improve such figures.