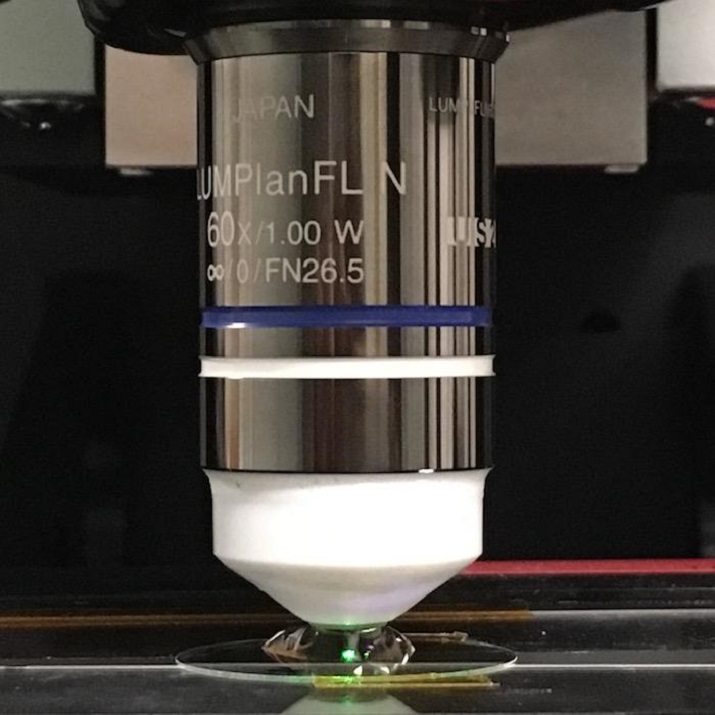 Source: Capasso Lab/Harvard SEASResearchers at the Harvard John A. Paulson School of Engineering and Applied Sciences (SEAS) have developed a new type of microscopic lens – one that has the potential to overcome challenges and drawbacks that have persisted for centuries. The new device, as described in Nano Letters, is a flat lens for immersion microscopy.

Optical microscopes work by collecting the light that hits and scatters off an object, sending it through a series of cascading lenses and reconstructing it as an image. But some light propagates at angles too large to be collected, which means that some of the fine detailed geometric information of an object gets lost. By immersing the object in liquid, those angles are reduced – improving the resolving power of the microscope.

The drawback to the immersion approach is that that the microscope's front lens – its smallest and most important component – must be hand-polished, which is both expensive and time-consuming. The lens also works only within a few specific refractive indices of immersion liquids. For example, to observe one specimen under blood and another under water, you need to hand-craft two different lenses.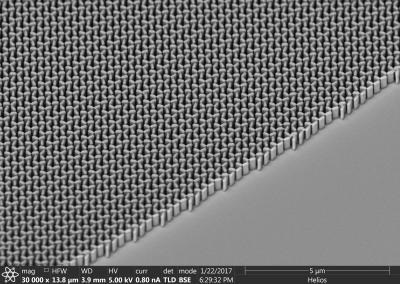 The lens is made up of an array of titanium dioxide nanofins. Source: Capasso Lab/Harvard SEAS)To simplify the process, SEAS researchers employed nanotechnology to design a flat lens that easily can be tailored and manufactured for different liquids with different refractive indexes. The lens is made up of an array of titanium dioxide nanofins and fabricated through a single-step lithographic process – a technique widely used in industry. This means it can be cost-effectively mass-produced through existing foundry technology or nanoimprinting.

The team designed metalenses that can be tailored not only for any immersion liquid, but also for multiple layers of different refractive indices – important for imaging biological material such as skin. The researchers believe that immersion metalenses will find uses in other applications as well, eventually outperforming conventional lenses.