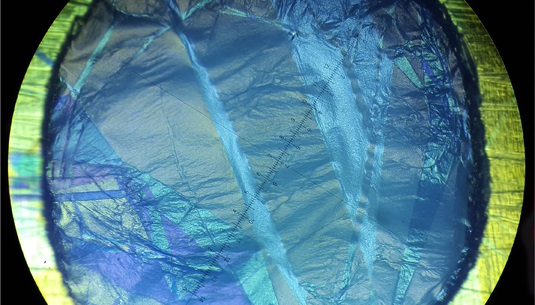 A 50nm pentacene film spanned across a 2 mm hole. Source: LMU MunichFor scientists using semiconductor materials, insulators, substrates and electrodes, it has long been a dream to use these elements as transferable sheets that could then be used to design devices simply by stacking the material.
Now, researchers at LMU Munich and Friedrich Schiller University Jena have, in what they claim is the first time, managed to create mechanically stable organic semiconductor material pentacene nanosheets.
The method does not require any interfering solvents and after deposition, the nanosheet sticks firmly to the electrical contacts resulting in low contact resistance of the final electronic devices, researchers say. Another benefit to the nanosheet is that it can be deposited onto more technological relevant substrates than hitherto.
How They Did It
Researchers first cover a small silicon wafer with a thin layer of water-soluble organic film and deposit pentacene molecules upon it until a layer about 50 nanometers thick has formed. Then, by irradiation with low-energy electrons, the topmost three to four levels of pentacene molecular layers are crosslinked. This forms a type of skin that is only five nanometers thick.
The crosslinked layer stabilizes the entire pentacene film so it can be removed as a sheet from a silicon wafer in water and then transferred to another surface using tweezers.
Because the nanosheets have high mechanical stability, they are able to be applied as free-standing nanomembranes to covered substrates with dimension of tens of micrometers. Researchers say this is the equivalent of covering a pool with plastic wrap.
"These virtually freely suspended semiconductors have great potential," said Bert Nickel, a physicist at LMU Munich. "They can be accessed from two sides and could be connected through an electrolyte, which would make them ideal as biosensors, for example."
The method could be used in flexible electronics for manufacturing of devices for data acquisition, in the production of displays or for solar cells.
The complete research findings can be found in the journal Advanced Materials.