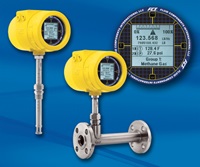 A fast-response direct mass flow sensor designed to improve the safety and efficiency of combined cycle gas turbine (CCGT) power generation systems is available from Fluid Components International. The ST100 air/gas thermal flow meter allows the operator to achieve a direct ratio of control between the natural gas, air and waste gas fuels without any corrections for pressure, temperature or density, which requires extra components.
The thermal dispersion technology gas flow meter is ideal for the measurement of air, combustion air, oxygen, natural gas, synthesis gas, methane and many other process gases. The instrument meets one Tau within one second, making it ideal for close ratio control in CCGT applications. The standard turndown is 100:1 with an optional 1,000:1 turndown available—again a perfect fit for CCGT operations.
The in-line style configuration is for line sizes from 0.75-2 in. and measures flow rates from 0.01 to 3,000 kg/hr. The insertion style is for line sizes from 3 in. to 6,000 mm and measures flow rates from 1 to 1.000.000 kg/hr depending on line size.
It is compatible with operating temperatures from -40° F to 850° F (-40° C to +454° C), and in addition to a SIL 1 rating, the ST100 meter is certified for hazardous areas with comprehensive approvals that include FM, FMc, IECEx, ATEX, Inmetro, EAC, NEPSI, CPA and others.
Whether the output requirements for a CCGT application are traditional 4-20 mA analog, frequency/pulse, or advanced digital bus communications such as HART, Foundation Fieldbus, PROFIBUS, or Modbus, the ST100 supports them all. The ST100 meter's bus communications have been certified by and are registered devices with HART and Foundation Fieldbus.