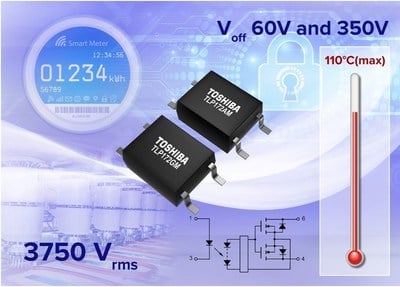 Toshiba's new photorelays. Image credit: Toshiba
Toshiba America Electronic Components, Inc. has expanded its portfolio of photorelays with two new devices in a 4-pin SO6 package.
The photorelays are halogen-free and made with a double mold structure utilizing multi-chip technology and were developed to be pin-compatible with Toshiba's existing 2.54SOP package products. The TLP172AM and TLP172GM devices operate at temperatures up to 110 degrees Celsius, feature an isolation voltage of up to 3750 Vrms and have a 3mA trigger current.
Toshiba says the photorelays are useful in applications such as function switches in measuring equipment, sensor switches in security systems, power monitoring function in battery management systems, Internet of Things equipment and more.
The TLP172AM features an on/off control for high current applications and features a higher current output rating than phototransistor photocouplers. The TLP172GM is useful in space-constrained battery management systems.