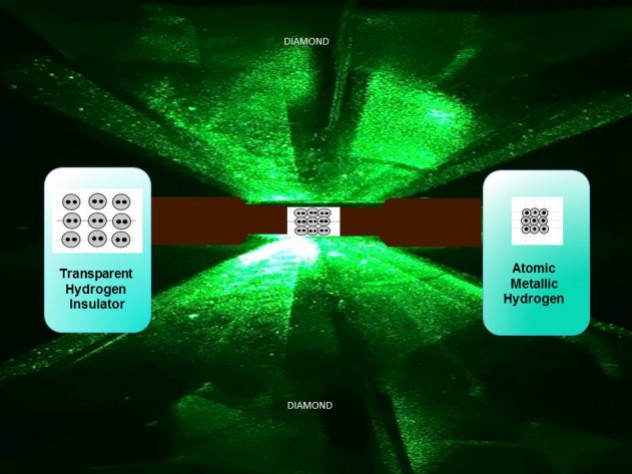 Harvard scientists have made a breakthrough that is being called "a very, very big deal," and "the holy grail of high-pressure physics." In fact, the discovery of this long-theorized material could change the future of space travel.
Thomas D. Cabot Professor of the Natural Sciences Isaac Silvera and postdoctoral fellow Ranga Dias succeeded in creating metallic hydrogen, the rarest material on the planet. In fact, the researchers created the first sample of its kind on Earth by squeezing a small hydrogen sample at 495 gigapascal (GPa), more than 71.7 million pounds per square inch. This is greater than the pressure at the center of the Earth.

At these pressures, the solid molecular hydrogen broke down, with the tightly bound molecules dissociating to transform into the metal atomic hydrogen. The scientists predict that the metallic hydrogen will remain metallic once pressure is released, opening the door to its use as a superconductor at room temperatures.

The availability of a room temperature superconductor could change the way we store and distribute energy, and could enable new technologies, such as high-speed trains that use magnetic levitation for movement. The technology could also make electric cars and electronic devices more efficient, according to the researchers. Superconductors have zero resistance, so these coils would store any excess energy and tap into it when needed.

Metallic hydrogen could also be used as a rocket fuel propellant, providing a specific impulse (that is, the speed at which a propellant is fired out the back of a rocket, measured in seconds) 3.7 times greater than today's most powerful fuels. When the metallic hydrogen is converted back to molecular hydrogen, the tremendous energy required to make metallic hydrogen would be released, allowing rockets to carry larger payloads and enter orbit using only one stage instead of two.