3-D printing up until this point has remained static. Once an object is printed, it stays in the same determined pattern and the objects cannot be extended to form new or different objects.
However, scientists at MIT have changed that by developing a way to print objects and then go back and add new polymers that alter the chemical composition and mechanical properties of the object. MIT was also able to fuse two or more printed objects together to form more complex structures.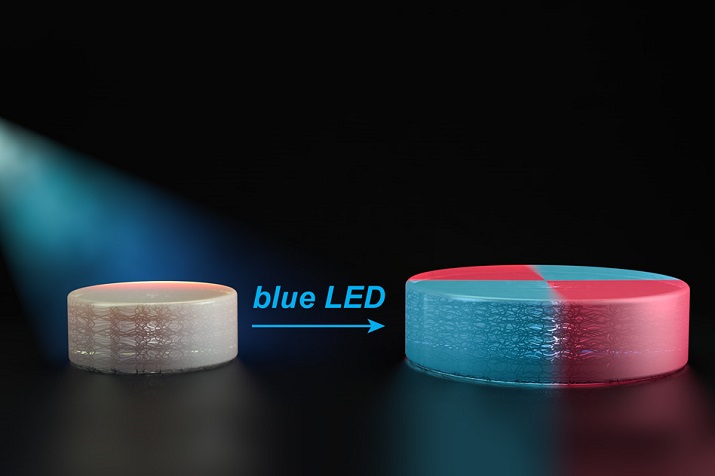 Using blue light from an LED, MIT scientists were able to change the shape of a 3-D printed object into a different, larger object. Source: MIT The goal is to expand the complexity of objects that can be created using 3-D printing thus opening new opportunities where 3-D printing could be used.
"The idea is that you could print a material and subsequently take that material and, using light, morph the material into something else, or grow the material further," says Jeremiah Johnson, the Firmenich Career Development Associate Professor of Chemistry at MIT.
How They Did It
Stereolithography, or creating three-dimensional objects using a computer controlled laser beam layer by layer, is the most common use of 3-D printing. Shining light onto a liquid solution of monomers (the building blocks of plastic and other materials) allows these objects to form layers of solid polymers until the shape is completed.
Adaptive 3-D printing uses a technique called "living polymerization," where the materials growth can be halted and then restarted later. MIT tested this previously by using ultraviolet light to add new features to 3-D printed materials, which created very reactive molecules called free radicals. These radicals would then bond to new monomers from a solution incorporating them into the original material.
The problem is that the approach proved to damage the material and was difficult to control.
Researchers developed new polymers that are also reactivated by light but in a way where they act like a folded up accordion. When blue light from a light emitting diode (LED) shines on organic catalysts, chemical groups known as TTCs attach to the new monomers making them stretch out allowing for new properties to be created in the structure.
Researchers showed that they can make the materials more rigid or swell and contract in response to temperature. They were also able to fuse two structures together by shining light on the regions where they come in contact with each other.
Because the technique works only in an oxygen-free environment, MIT is now testing other catalysts that will accomplish the same results but can be used in the presence of oxygen.