Just last month, Maryland residents found out that they would have to wait longer than usual to receive their driver's licenses in the mail due to a series of security upgrades that are being implemented.
Maryland, among other states, has made the recent change to comply with the Homeland Security Department's REAL ID Act, put in place to protect American citizens from fraud. According to Homeland Security, law enforcement must be able to rely on government-issued identification documents and know that the owners are exactly who he or she claims to be.

Epilog Laser systems can contribute that added protection for organizations and corporations. (Image Credit: Epilog Laser)Among the features intended to improve the reliability and accuracy of state-issued identification documents, driver's licenses now contain laser engraved characteristics. Laser engraving has the ability to protect ID cards from duplication, as well as make them less likely to be tampered with.
How? Laser engraving applies heat – emitted as a laser beam – to create changes in the internal molecules, causing them to move to the surface and, as a result, images that are nearly impossible to alter, remove or duplicate.
And the government isn't the only organization that has been looking for increased protection against forgery using laser engraving. Numerous other corporations and groups have implemented the technology too.
Epilog Laser has a variety of laser systems that are used in security applications like these. One such instance is the Department of Defense's Unique Identification program for detection and traceability of government purchases. Epilog's lasers create bar codes and data matrix codes that allow for the tracking of the DoD's unique items.
The laser-produced identifications can be applied directly to an individual part or to a non-removable tag attached to the item.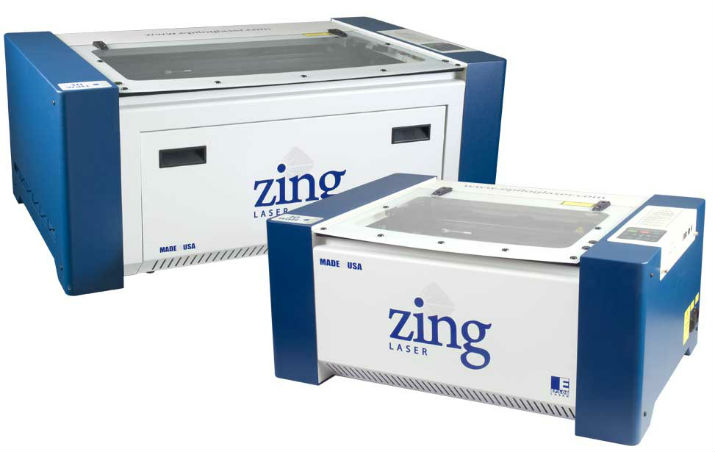 The Epilog Zing Laser Starter Series is Epilog's small format, high-quality engraving line. (Image Credit: Epilog Laser)Since Epilog Laser systems, like the Zing and Fiber series, can engrave metals, they can also be used for security professionals to incorporate mini identification codes into ID badges – ones that can only be seen with a microscope – to add some extra protection to important forms of identification.
Additionally, Epilog laser systems allow for the engraving of electronics. Not only does this mean that personal electronics can become totally unique by adding some creative touches and designs, but it also doubles as a security measure.
Many schools and companies have begun implementing laptop engraving since etching a company logo and a serial number allows for quick identification of products, and hopefully discourages theft.
As the technology expands and more and more organizations discover new applications for laser engraving, we will see how it can further increase security and protection in our lives.