Integrated Device Technology, Inc. (IDT) has announced its collaboration with Cavium, Inc., on a reference design that supports the burgeoning workloads of the hyperscale data center. The IDT® DDR4 memory interface solutions are incorporated into the reference design, which is built on Cavium's ThunderX® family of workload-optimized 64-bit ARMv8-based processors.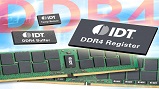 Cavium ThunderX® reference design. Source: IDT The Cavium ThunderX® reference design can be used to build energy-efficient server solutions featuring IDT's DDR4 technology. Cavium and its industry partners developed the design to target server solutions for members of the Open Compute Project and other hyperscale data center customers.
The ThunderX® product family is Cavium's server processor for next-generation data center and cloud applications, featuring high-performance custom cores, single- and dual-socket configurations, high memory bandwidth and large memory capacity. The product family also includes integrated hardware accelerators, integrated feature-rich high bandwidth network and storage IO, fully virtualized core and IO, and scalable high bandwidth, low-latency Ethernet fabric.
IDT's DDR4 chipset includes register, data buffers and thermal sensors with serial presence detect. Together, they collectively enable the complete range of unbuffered dual-inline memory modules, registered DIMMs and load-reduced DIMMs needed to power the next generation of enterprise and data center servers.
IDT's DDR4 memory is part of the company's vast portfolio of technologies enabling hyperscale data servers, high-performance computing clusters and enterprise servers. IDT also offers digital power- management solutions to optimize overall data center performance and power usage, enabling the high-density solutions required for space-constrained servers. IDT provides an extensive high-performance timing portfolio, PCIe retimers, PCIe switches and low-latency RapidIO interconnect to enable analytics workloads in the data center.