Just last month, researchers from Drexel University, Huazhong University of Science and Technology (HUST) and Tsinghua University proved that salt crystals could be used as a template to grow thin sheets of conductive metal oxides which would make the materials turn out larger and more chemically pure-- in effect, creating a better battery.

Now, a team of researchers at the University of Maryland (UMD) and the U.S. Army Research Laboratory (ARL), have furthered that research by developing a battery that is safer, cheaper, more environmentally friendy and more powerful—by adding a pinch of salt.

The groups built-upon previous UMD research regarding "water-in-salt" lithium-ion battery technology, in which they found that adding a second salt to the water-based batteries increased their energy capacity, without the fire risk, poisonous chemicals, and environmental hazards of lithium ion batteries that come in many portable electronics on the market.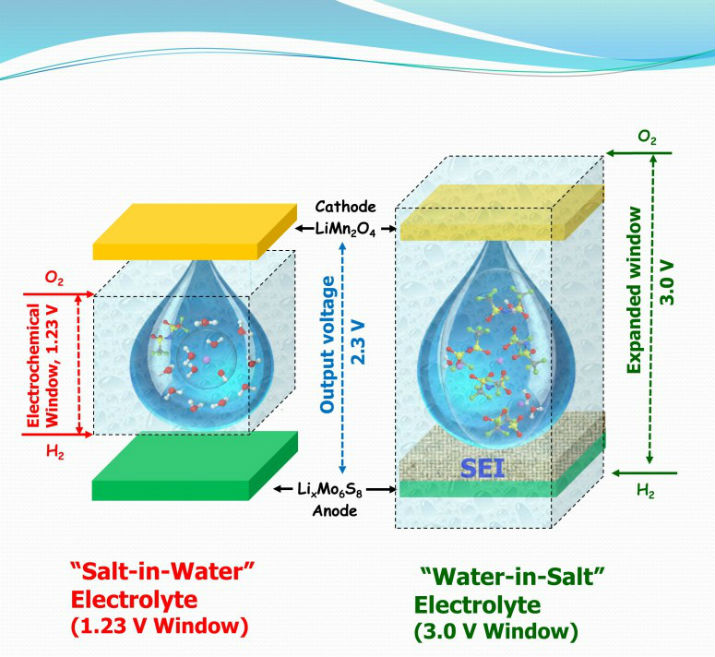 A new class of aqueous electrolyte enables high-voltage aqueous batteries. (Image Credit: Dr. Kang Xu)

"Our purpose was to invent an aqueous lithium ion battery that is absolutely safe, green, and cost-efficient, while delivering energy density comparable to commercial lithium ion batteries," said Liumin Suo, postdoctoral research associate in UMD's Department of Chemical and Biomolecular Engineering. "We believe our batteries will have very wide applications including electric energy storage, airspace devices, and portable electric devices."

According to the researchers, their work exhibits a major advance in water-based batteries by further increasing the voltage or power of an aqueous battery.

"Our invention has the potential to transform the energy industry by replacing flammable, toxic lithium ion batteries with our safe, green water-in-salt battery," said Chunsheng Wang, a professor in UMD's Department of Chemical & Biomolecular Engineering. "This technology may increase the acceptance and improve the utility of battery-powered electric vehicles, and enable large-scale energy storage of intermittent energy generators like solar and wind."

The batteries have potential applications in areas where large energies at kilowatt or megawatt levels are required and in where battery safety and toxicity are concerns, such as non-flammable batteries for airplanes, naval vessels, or spaceships.

Their research leads to a safer lithium-ion battery technology that can benefit both civilians and military personnel and opens the door to the possibility of high-voltage aqueous electrochemical systems, resistant to water-splitting reactions.

"For instance, energy storage units of the electrical microgrids, which would manage energy produced and harvested in camp, could rely on a WiSE-based battery bank to store and release electricity without the safety and environmental concerns, increasing the camp's self-reliant energy capability," said Arthur Cresce, an author on the paper and research chemist with ARL.

Story via University of Maryland.