Geckos tell us more than where to buy insurance. NASA's Jet Propulsion Lab (JPL) scientists have used what they studied from the critters' feet, and translated it into adhesive grippling tools. This will enable astronauts and robots to climb, grasp and maneuver around space structures.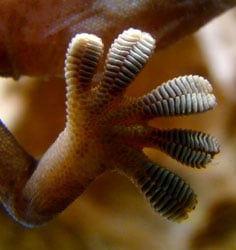 A view of the underside of a gecko's feet enabling it to stick onto walls and ceilings. Image credit: NASANASA considers this to be the next long-term replacement for duct tape (just think of the possibilities). Gecko's feet have thousands of hair that can hang to rough surfaces using van der Waals forces—the uneven spacing of electrons that form a molecule's positive and negative sides. The two sides attract each other resulting in a non-permanent stickiness. So, what JPL did was to mirror that process, creating a material that uses hairs like a gecko's to grip with more than 150 newtons of force. The goal is to use technology that can be reused endlessly on the International Space Station (ISS).
Using the gecko-like technology would prevent residue from currently used tape and expensive and space-hogging Velcro patches.
NASA also reports that it has a Lemur 3 climbing robot on the drawing board that could be used to climb on the outside of the spacecraft with more accuracy and flexibility than robotic arms or cameras currently in use.
To date, NASA has tried it out on a 250-pound person and has made multiple sizes of hand-operated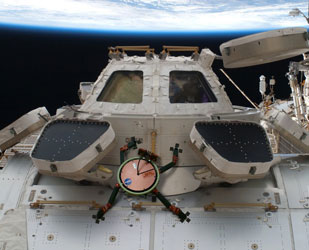 Lemur 3 climbing robot that can pull duty on the outside of spacecraft. Image credit: NASA/JPL-Caltechastronaut "anchors."
It will be fascinating to see what NASA does with the technology in the future—and what other influences from nature will have an effect on innovation.
To contact the author of this article, email engineering360editors@ihs.com
Related articles: