Silicon-on-insulator wafer-maker Soitec SA (Bernin, France) has struck a deal to sell its solar systems business to ConcenSolar, a business partner of Suncore Photovoltaic Technology Co. Ltd. (Huainan, China).
Soitec did not reveal how much it will receive for the business, which includes manufacturing operations in Freiburg, Germany and San Diego.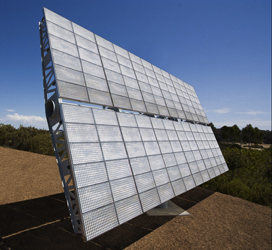 Soitec CPV uses Fresnell lens sheet to focus light to photovoltaic cell. Source: SoitecThe sale package does not include ownership interests in certain solar power plants that Soitec helped to establish. Soitec says it is retaining those for separate disposal. In addition, the company will continue to develop a four-junction solar cell characterized by its efficiency.
The moves are in line with Soitec's decision, announced in January, to get out of the solar power sector and focus on electronics in anticipation of an upturn in demand for RFSOI and FDSOI wafers (see Soitec CEO Steps Down Amid Refocus Plan).
"This agreement represents a key milestone for Soitec and a reinforcement of our core semiconductor business," says Soitec CEO Paul Boudre in a statement.
"Soitec's CPV (concentrator photovoltaic) solar modules represent the most advanced technology with proven reliability and project bankability, as well as competitive cost structure due to production automation and high-efficiency performance," says Charlie Wang, CEO of ConcenSolar, in the same statement.
The deal is subject to regulatory approvals and other customary closing conditions. Soitec expects the transaction to close in the third quarter of 2015.
Questions or comments on this story? Contact peter.clarke@ihs.com
Related links and articles:
IHS semiconductor manufacturing research
News articles: