Autotalks Ltd. (Kfar Netter, Israel), a fabless startup founded in 2008 has developed chipset and software that combine signal processing, security and positioning information to create vehicle-to-vehicle (V2V) and vehicle-to-infrastructure (V2I) communications for automotive OEMs and their suppliers.
For its second generation chipset the company is working with STMicroelectronics NV (Geneva, Switzerland) to deliver a mass market-optimized V2X chipset for widespread deployment by 2017.
Autotalks already offers an AEC Q100 qualified V2X communication processor called Craton (ATK4100) and V2X RF transceiver called Pluton (ATK3100). The Craton processor is ARM based and has been made for Autotalks by Fujitsu Semiconductor. It provides security to prevent bogus messages or hacking of V2X communications and is suitable for OEM and aftermarket deployment in on-board units (OBUs) and road-side units (RSUs), the company states on its website.
Pluton is an automotive-grade direct conversion transceiver for 802.11p that is designed to provide fast gain adaptations, low noise and high dynamic range that can operate in harsh vehicular environments without calibration. Autotalks also offers the Pangaea4 communication module – a reference design based on the two chips. Pangaea4 contains all elements for an OBU or RSU including: RF, modem, security and positioning.
Fujitsu has been seeking to get out of semiconductor manufacturing for a couple of years and in August 2014 announced it was spinning off two wafer fabs into two separate, independent foundry subsidiaries – one located in the Mie prefecture of Japan and the other in Aizu prefecture.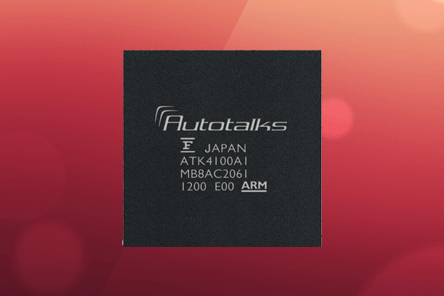 Craton V2X transceiver made for Autotalks by Fujitsu.
ST said it offers expertise in chip design in the areas of communications and navigation as well as advanced manufacturing capabilities, in addition to a strong automotive chip catalog of its own and partnerships across the automotive supply chain so that it to help Autotalks to get broad market evaluation and adoption for the next-generation chipset.
The second-generation V2X chipset will increase the level of integration beyond that of the first generation as well as the cost effectiveness for mass-market requirements. ST has expertise in telematics, car infotainment, and GNSS positioning (Global Navigation Satellite System) which complements Autotalks' V2X technology. The use of ST's Teseo II and Teseo III single-chip GNSS receivers, the two companies are looking to enable the convergence of V2X, telematics, and Advanced Driver-Assistance Systems (ADAS).
"Working together, we can extend the scope of the V2X chipset to meet the next-generation objectives, like security and functional safety for autonomous vehicles, that are unmatched by any other similar projects in the industry," said Nir Sasson, CEO of Autotalks, in a statement issued by STMicroelectronics.
Marco Monti, general manager of the automotive product business group at ST, said: "Our technological expertise, leading position in automotive semiconductors, and the processes we have established for delivering and supporting advanced automotive ICs, empower us to ensure the success of this project within the 2017 timeframe."
Autotalks was founded in 2008 by Nir Sasson, who serves as CEO, and Onn Haran, who serves as CTO. Sasson worked at Libit Signal Processing and following its acquisition by Texas Instruments in 1999 held executive business and R&D positions at TI in cable modem, Ethernet and WiFi product lines. Prior to founding Autotalks Haran was a CTO of Passave, a provider of Fiber-To-The-Home (FTTH) access technology, founded in 2001 and acquired by PMC Sierra in 2006. Onn was Fellow at PMC Sierra following acquisition.
Autotalks is backed by venture capital funds from Israel, Japan and the US including Gemini Israel Funds, Magma Venture Partners, Mitsui & Co. Global Investment and Amiti Ventures.
In order to support safety-critical applications, V2X is required to operate with extremely low latency, highest reliability of transmission and reception of wireless signals, highly secured communication, and high accuracy of positioning information. It uses primarily the 5.9GHz band and, with ratified standardization, the interoperability of communication, security and messaging is enabled.
IHS forecasts that worldwide vehicle-to-vehicle communication sales will amount to nearly 700,000 units in 2017, rising to 5.6 million units in 2020 and that it could be as much as 55 million in 2025. The vast majority of these sales will be in the US and Europe – based on DSRC and the ITS G5 standard – as well as Japan, including both original equipment and aftermarket units. The U.S. Department of Transportation's (DOT) National Highway Traffic Safety Administration (NHTSA) has released an advance notice of proposed rulemaking on V2X.
Related links and articles:
IHS automotive semiconductor research
News articles:
Exclusive Video Teardown: Tesla Model S
Delphi Adopts NXP Vehicle Communications
Why UMC is Boosting Automotive Chip Business
UMC Takes Stake in New Fujitsu Foundry
Fujitsu Shakes up Semiconductor Business, Expands Foundry Platform