A vehicle-to-vehicle (V2V) solution engineered to eliminate a significant number of racecar accidents and casualties in professional and amateur racing was demonstrated last month. The trial conducted at a new motorsport park in Be'er Sheva, Israel, showcased Autotalks' V2X solution, based on the CRATON2 chipset, installed in G1 racecars from Israeli startup Griiip.
In dangerous conditions, the V2V system alerts drivers approaching the scene in order to prevent a crash. The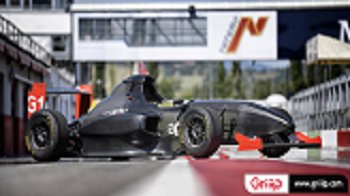 Autotalks' V2X solution was installed in G1 racecars from Israeli startup Griiip. Source: Griiipalert can be activated, for example, when a driver loses control of the car and stops in a dangerous place on the track or when a car slows down unexpectedly.
The intensity of flashing yellow lights and a buzzer increases as the car gets closer to the danger area. By providing an instant, clear warning, rather than waiting for the yellow flag, on-track accidents can be avoided, which often become chain accidents due to the high speeds involved.
The CRATON2 chipset is specifically designed for autonomous vehicles. The device integrates a mobility optimized IEEE 802.11p modem, ultra-low-latency V2X Hardware Security Module (eHSM), hardware acceleration engines for line-rate message verification and a single/dual ARM Cortex A7 processor capable of running full V2X middleware and applications. It also supports IEEE 802.11a/b/g/n/ac to enable external Wi-Fi for supplementary value-added services.