Ericsson AB has announced that its M7540 LTE-Advanced carrier aggregation modem has been tested by state-owned China Mobile Ltd. and certified as suitable for its networks.
The modem chipset covers five access standards –TD-LTE, LTE FDD, WCMDA, TD-SCDMA and GSM – and is aimed at smartphones and tablet computers and other connected devices. The company also has design wins and claims the first equipment including the M7450 will be on the market in the second-half of 2014.
Ericsson claims that the M7450 is the world's smallest LTE-Advanced modem supporting carrier aggregation that has been designed for global usage, rather than just a single access technology and region. The highly integrated multimode multi-band modem has a feature set that includes single RF chip carrier aggregation, voice over LTE and IP Multimedia Subsystem and is reportedly being sold for $17 per modem.
Certification of the M7450 operators in North America, Europe and Asia is progressing as planned, Ericsson said but did not disclose when those certifications would be forthcoming.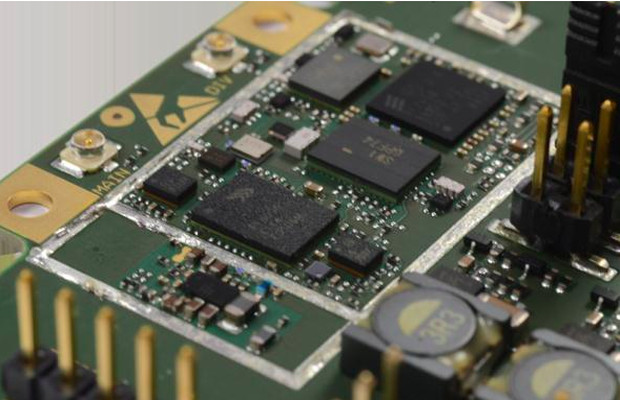 Ericsson's re-engegament with mobile phone market rests on M7450 LTE-Advanced modem chipset. Phones using M7450 expected in 2H14.
However, Ericsson is still in a precarious situation because the modem group, while respected technically, is one of the remains of the deconstruction of the failed ST-Ericsson joint venture. The idea was that STMicroelectronics would provide the application processor and graphics capabilities and Ericsson the modem in chips that combined both.
The question will be asked; if the modem group couldn't make it as part of the larger ST-Ericsson then is it better shape as a separate group? And how much time and energy have been wasted, and staff lost, through long separation process?
Being in a position to integrate the modem within the application processor is something that has helped propel Qualcomm to the top of the ranking of smartphone application processor vendors. MediaTek and Samsung are also following suit in integrating LTE. Intel's lack of an integrated LTE modem is one thing that is thought to be holding back the company's penetration of the smartphone space.
Meanwhile the number of vendors trying to win modem design slots with LTE designs in 2014 is reported to include Broadcom, Intel, Marvell, MediaTek, Nvidia and Spreadtrum as well as Ericsson.
The endorsement by China Mobile will help Ericsson's cause and access across five standards including seamless handovers between the technologies will also be noted.
"Partners and customers are assured that the Ericsson M7450 modem will deliver high-speed and consistent connection in all five modes. China is an important market for us and we have a close collaboration with China Mobile. We look forward to having 4G 5-mode smartphones and other connected devices powered by the Ericsson M7450 modem running on the China Mobile 4G network," said Robert Puskaric, head of the modem business unit, in a statement.
Related links and articles:
News articles:
ST Promotes Chery to COO as Outlook Improves
Ericsson, STMicroelectronics Dissolve Partnership