With the completion of its acquisition of IBM's server business in December 2014,Chinese computing behemoth Lenovo Group is charting a strategy designed to attack the $42 billion x86 server market as it looks for ways to differentiate itself in the crowded smartphone market.
The IBM server transaction follows Lenovo's $2.9 billion deal to acquire Motorola Mobility from Google in January 2014. The acquisition binge provided Lenovo with a recognized smartphone brand in China while instantly making it the No.3 global x86 server vendor whose largest customer will be IBM.
Industry watchers say the Chinese technology giant will try to apply the same successful formula it used to dominant the PC market over the last decade as it refocuses on the $42 billion server market and China's booming smartphone sector.
While giving Lenovo a foothold in the North American and European smartphone markets, the Motorola deal also gives Lenovo a recognized brand name in China as it goes up against leading suppliers like Huawei. That should help alleviate the fact that Lenovo lacks the tight connections to network operators enjoyed by Huawei and other established Chinese players.
The Motorola deal is "massively important" to Lenovo's smartphone prospects in China, said Daniel Gleeson, senior analyst for mobile media IHS, giving its access to distribution channels and network operators in overseas markets and a recognized brand in China.
IHS estimates that 400 million smartphones were sold in China in 2014 and the rate of growth, while slowing, could still grow at a 10-percent clip this year.
"I actually quite like Lenovo's chances in the Chinese market," said Gleeson, who tracks mobile devices and networks from London.
A Tough Sell
While Lenovo appears poised to make a serious run in the Chinese smartphone market, it's foray into the x86 server market may be a tougher sell despite the fact it is bringing with it top IBM executives along with about 7,500 employees. While Lenovo may attempt to package desktop and laptop machines along with servers, selling to large enterprises will be harder than peddling PCs through retailers.
"I'm not so sure Lenovo can sell [servers] to enterprises the way it has sold PCs," Gleeson noted.
Still, Lenovo has demonstrated the ability to squeeze out profits in the cutthroat PC market and may be able to do the same selling servers in emerging Asia-Pacific markets, Gleeson added.
The IBM-Lenovo server deal is "really not just a divestiture and acquisition," Adalio Sanchez, Lenovo's senior vice president of enterprise systems and former general manager of IBM's System x unit stressed during a recent industry event. "But really it's the next phase of the collaboration between the two companies—Lenovo and IBM going forward—this time in the data center."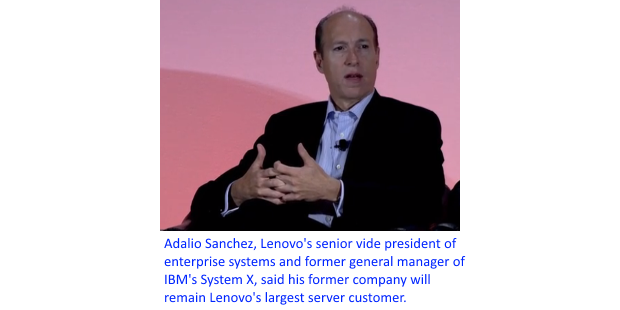 Lenovo estimates that x86 servers currently represent about three-quarters of all server purchases, primarily in data centers.
Despite selling its x86 server business, IBM will retain its high-end mainframes, Unix and storage systems, Sanchez noted, "so we will be partners with IBM inside the data center." Also as part of the acquisition, IBM has licensed Lenovo to manufacture and resell various parts of its storage platforms. The server deal was structured similar to its 2005 acquisition of IBM's PC business and its ThinkPad brand.
Hence, IBM also will become Lenovo's single largest server customer, Sanchez stressed. The deal instantly makes Lenovo the world's third largest vendor of x86 servers. IHS estimates that IBM's x86 server market share was about 8 percent in the second half of 2013, trailing only Hewlett-Packard (28 percent) and Dell (22 percent).
Chee Seng Tan, a semiconductor analyst at IHS, said the market share gap between the IBM server business and Dell and HP means that Lenovo's new server division has enormous space to grow. IHS estimates that shipments for entry-level servers such as x86 servers will grow at a 7.4 percent compound annual growth rate between 2013 to 2018, making up about 88 percent of the total server market. "The positive outlook represents a huge market potential for Lenovo to tap into in the next five years," Tan said.
An Aggressive Goal
Lenovo has set an aggressive goal of $5 billion in server revenues in its first year. To do that, it will have to find ways to expand the x86 server market, especially in the growing Chinese and Asian-Pacific markets, at a time when sales of servers and other data center equipment are flat in regions outside the Asian-Pacific.
Lenovo Chairman and CEO Yang Yuanqing stressed in October that it would seek to duplicate its success in the PC market with ThinkPad in the more demanding x86 server market. "By combining Lenovo's global reach, efficiency and operational excellence with IBM's legendary quality, innovation and service, I am confident that we will have competitive advantages to help us drive profitable growth and build Lenovo into a global enterprise leader."
To do that, Yang, Sanchez and Gerry Smith, executive vice president of the Lenovo Group, acknowledge that they will have to find way to seed the server market. "We are going to attack the marketplace," Smith said in wrapping up the IBM deal in October, adding, "We do need to grow the marketplace."
IHS's Gleeson said Lenovo could apply the same formula it used to squeeze margins on PCs to succeed in smartphones and servers. "They know how to do that in the China market," Gleeson said.
Gleeson suspects Lenovo's Motorola unit will target all segments of the Chinese smartphone market, offering a flagship product while seeking to reuse as many components as possible to hit other mobile phone price points. Then it will seek to leverage its already imposing supply chain strengths in China as its takes on well-connected networking rivals like Huawei.
Chinese smartphone suppliers generally appeal to as many market segments as possible and often copy each other. That has resulted in plenty of stumbles, "But Lenovo is more predictable" than upstarts like Xiaomi and TCL, Gleeson notes.
Along with the recognizable brand, most Motorola Mobility executives as well as the company's design and technical staff transferred to the new Lenovo smartphone unit. That approach worked with the IBM ThinkPad acquisition, is being tried again with the x86 server deal and is likely to boost Lenovo's prospects in the Chinese smartphone race.
According to Tan, Lenovo is expected to launch a new smartphone brand called Fancy Maker to target the Chinese market and possibly other emerging markets in South East Asia. "Lenovo is taking a leaf out of Xiaomi's marketing book by making the Fancy Maker brand smartphones exclusively available from its online store, possibly using the same 'flash' sales and social media strategy to create hype and garner interest," Tan said.
While the server market looks to be a bigger challenge, some observers think Lenovo's PC success is transferable to the x86 server foray. Channel partners like OCF, the U.K. server and storage cluster integrator, note that they are also sticking with Lenovo during the transition.
Lenovo "wants to be a manufacturer, and it wants to be number one, so we now have a very motivated vendor partner for hardware, which will continue to invest and develop the x86 range," said Julian Fielden, managing director of OCF.
To that end, Lenovo in December joined the Open Interconnect Consortium, a group of electronics, cloud and industrial companies developing standards and a certification process for connected devices that could form the backbone of the Internet of Things. The emerging IoT device market and the torrent of data it promises to generate could also help boost demand for Lenovo's computer and server products.
Questions or comments on this story? Contact dylan.mcgrath@ihs.com
Related links:
IHS Compute, Servers & Storage
News articles:
Lenovo Expects Chip Spending Surge Following Acquisitions
Lenovo Using Dialog's Power ICs in New Smartphone
Avnet to Distribute Lenovo Products Worldwide
Lenovo's Sales Rise on Wireless Growth