The Semiconductor Industry Association (SIA) trade group has initiated a search for a new president and CEO following last month's announcement that Brian Toohey will step down next year to take up a position in industry.
Toohey, who has served as SIA president and CEO since 2010, announced plans to resign his post in 2014 to take up an executive vice president position with DEKA Research & Development Corp. Toohey has agreed to remain with the SIA through mid-2014 until his successor is in place and to help ensure a smooth transition.
The SIA board of directors plans to initiate a search process to appoint a new CEO. The process will be led by John Daane, chairman, president and CEO of Altera Corp.
The SIA is a U.S. trade group that seeks to safeguard the interests of the industry and lobby for political support with government. Because of the historical significance of Silicon Valley companies industry the SIA continues to have a leading global position. Prior to his appointment in 2010, Toohey had been a lobbyist in the pharmaceuticals industry. Before that he had held senior management positions at AirCell Inc., Iridium LLC, and the U.S. Department of Commerce.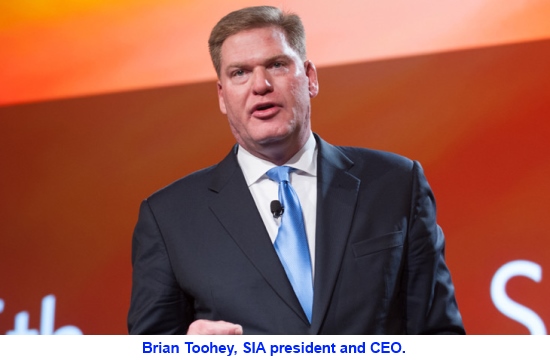 When Toohey replaced George Scalise, a long-time semiconductor industry veteran who had led the SIA since 1997, he took the step of relocating the SIA headquarters from Silicon Valley to Washington DC.
In his new role at DEKA, Toohey will focus on guiding the commercialization of medical, energy, and water purification technologies around the world.
"It has been a true honor and distinct privilege to represent this amazing industry and advocate for policies that have strengthened the semiconductor sector and the overall U.S. economy," Toohey said through a statement.
During Toohey's tenure at SIA, the association led efforts to strengthen the industry's position on international trade issues, EPA regulations, export controls, increase programs to combat counterfeiting, and ensure semiconductor priorities are reflected in immigration and tax reform efforts.
"The SIA has a long history of driving policies and programs to enhance the competitiveness of the U.S. chip industry," said Brian Krzanich, CEO of Intel and 2014 SIA vice-chairman, in the same statement. "Under Brian's leadership the association successfully advanced that mission. I commend him on a job well done, and the positive impact that he has had on our industry."
Related links: