Following lackluster demand in 2012, worldwide semiconductor spending is set to grow by 6.2 percent in 2013, led by demand from original equipment manufacturers (OEMs) in the wireless segment.
Makers of smartphones, media tablets and mobile infrastructure equipment will consume an estimated $70 billion in semiconductors this year, a 13.5 percent increase from $62.3 billion in 2012, according to IHS. This represents the highest growth rate of the seven major semiconductor application markets tracked by IHS, with the others set to undergo annual changes ranging from a 6.5 percent expansion to a 1.7 percent decline.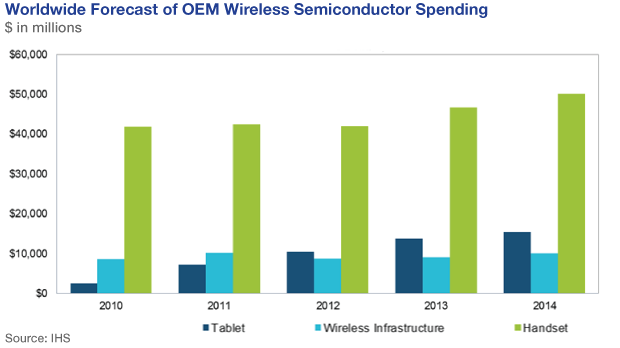 "The growth in wireless semiconductor spending this year reflects the strong and sustained consumer appeal of smartphones and media tablets — as well as the robust corporate infrastructure expenditures required to support this trend," said Myson Robles-Bruce, senior analyst for semiconductor design and spend at IHS. "Mobile handsets continued to be the leading category for wireless semiconductor spending, but tablets are on the rise, with the new slate computers surpassing wireless infrastructure in 2012 for the first time ever."
OEMs Apple Inc. and Samsung Electronics are expected to be the biggest buyers of wireless communications chips in 2013, followed by LG Electronics, Huawei Technologies, ZTE and Lenovo. Together, Apple and Samsung consume 75 percent of the semiconductors used in media tablets. Most media tablet sales are still concentrated in the North American geographic area, although the top manufacturers have recognized the need to more aggressively market products to the Asia-Pacific region. Spending for media tablets alone reached $10.5 billion in 2012, compared to $8.7 billion for wireless infrastructure.
Still, the largest submarket by dollar value will continue to be handsets, at $46.7 billion (see chart).
The top OEM spenders in wireless infrastructure will remain unchanged from last year: Ericsson, Huawei, Alcatel-Lucent and Nokia Siemens Network will be the big chip buyers of 2013. Ericsson and Huawei now are locked in a battle for the leadership position in wireless infrastructure; the market ranking closely tracks the semiconductor spend by these OEMs. These are all companies that will rely heavily upon growth in the U.S. and Chinese markets in the future.
Driving semiconductor demand in wireless infrastructure are critical connectivity issues that need to be resolved related to network congestion, power reliability, and privacy and security both for individuals and the public at large. Currently there have been no real solutions established — only a great deal of discussion.
Manufacturers of wireless devices will make incremental changes to their products this year, but beyond that there is also a need to address issues and problems associated with these devices in order to ensure a future of growth and profitability. Key areas of R&D focus include the following: efforts to significantly improve display resolutions for tablets and smartphones; and improvements to the sound quality of mobile devices by utilizing better noise-reduction technology.