Main Features
Basic, entry-level dual-band GSM/GPRS (non camera!) candybar phone with 1.5 inch diagonal 128x128 CSTN screen. This phone is one step above the group of entry-level phones for emerging markets analyzed by iSuppli not long ago, with a few relative upgrades: color screen, more memory, and an FM radio. No sophisticated multimedia features aside from polyphonic ringtones in this phone. Basic phone probably for youth market.
Overview
The C168 holds down the low-end color-screen portion of the GSM offering at Motorola. As mentioned above this is a bare-bones GSM phone, which, in a world where ever more phones are camera phones, and often megapixel phones at that, the low-end seems to be vanishing, but will still flourish as more and more young consumers, as well as those in developing countries become subscribers for whom this phone represents a good starter phone.
Target Market
Mainstream low-end 'mass-market'. Per vagueries in theMotorola release: the C168, and other phones released simultaneously are "designed to address the diverse needs and desires of mass market consumers…, and to ""connect the unconnected", or more specifically in the case of the C168, ""for the socially minded individual on the go".
Release
Released at 3GSM Asia, Singapore, September 27, 2005.
Volume Estimations
Given the popularity of the low-end segment, and Motorola's relative market strength, and despite a general market transition to more feature-intensive phones, we expect this model to do relatively well with a lifetime production volume of 1 million units.
As a reminder, volume production assumptions are not meant to be necessarily 'market accurate', and our meant primarily to be used for our cost analysis in terms of amortized NRE and tooling costs, especially for custom components specific to the model being analyzed (mechanical components especially).
Function / Performance
Functional testing was not performed on the Motorola C168.
Manufacturing Notes
Country of Origin / EMS Provider
This model was labeled as built in Taiwan. Most Motorola phones are built in china, and those we have seen from Taiwan, we typically suspect as ODM designs. The design, however, has great commonality with some previously analyzed devices - so is still likely an 'in house' design, EMS built. This model was not labeled as a prototype, but it is also possible that later production may be manufactured more likely in the PRC lowering the total manufacturing cost somewhat. It was assumed, nonetheless, that the plastics and other mechanicals, as well as the assembly of the PCBA took place in mainland China to minimize costs.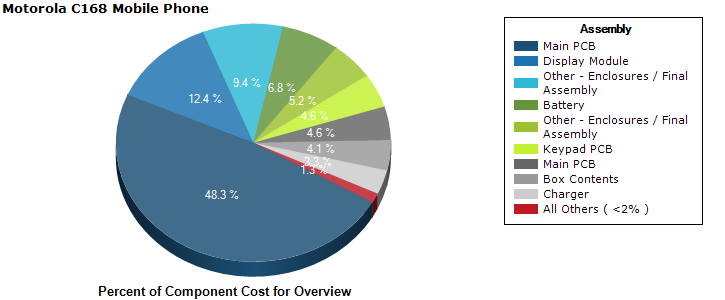 Design for Manufacturing / Device Complexity
The Motorola C168 has a very low total component count of 369, which is comparable in quantity to the recently analyzed, and lowest level Motorola analyzed to date (C115) which in fact, despite having an even lower feature set actually had a HIGHER component count of 377! When compared with the competing, devices in this group (the SonyEricsson j230i and Nokia 6030 with nearly identical features and functionality), it actually has the lowest component count. Furthermore, this phone and the competing phones against which it was analyzed are also relatively simple mechanically - this phone had 64 mechanical components which again is totally in line with the lowest end candybar phones we have ever analyzed.
Component counts have a direct bearing on the overall manufacturing cycle times and costs, and also can increase or decrease overall yields and re-work. Our calculations of manufacturing costs factor counts and more qualitative complexities in the design. Note also that manual labor has a much smaller effect on auto-insertion assembly lines (for the Main PCB, for example), where manufacturing costs are much more capital equipment intensive and driven by these investment costs.
Note that manual labor has a much smaller effect on auto-insertion assembly lines (for the Main PCB, for example), where manufacturing costs are much more capital equipment intensive and driven by these investment costs.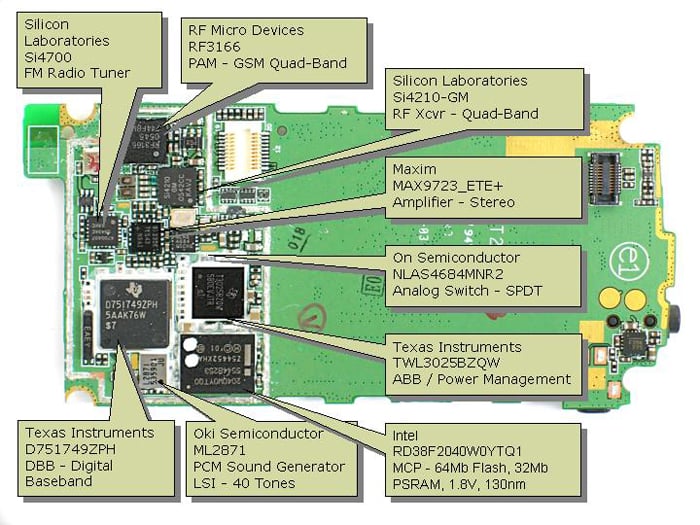 Design Notes
The Motorola C168 is similar to the previously analyzed C115 which makes sense, as the only major difference between the devices are a few slight upgrades (color screen vs. monochrome, and FM radio). Although most Mot designs feature a Freescale DBB chip and either a Freescale or TI ABB/Power management device. Only the C115 and this have had TI DBB chips. Other than that - it features and Intel MCP with mid/low-end memory content, an RF Micro devices PAM, and SiLabs RF Transceiver. This pairing is nearly identical to the RF/PA setup in the SonyEricsson j230i.
The Oki Semi sound generator is rare in most phone designs (in favor of the far more popular Yamaha chips), but even that we have seen in two other phone designs including the closely competing SonyEricsson j230i analyzed in parallel. This phone and the other competing designs all sport FM radios, this one the Silicon Laboratories Si4700 - a chip we have only seen for the first time in this design.
Chip or Component Summary by Functional Area or Assembly
Baseband
DBB - Digital Baseband Processor - Texas Instruments - D751749ZPH
Baseband / Battery / Power Management
ABB - Analog Baseband / Power Management - Texas Instruments - TWL3025BZQW
Memory
MCP - 64Mb Flash, 32Mb PSRAM, 1.8V, 130nm - Intel - RD38F2040W0YTQ1
RF/PA
PAM - GSM Quad-Band - RF Micro Devices - RF3166
RF Transceiver - Quad-Band - Silicon Laboratories - Si4210-GM
User Interface
PCM Sound Generator LSI - 40 Tones - Oki Semiconductor - ML2871
FM radio Tuner - Silicon Laboratories - Si4700
Display
Display Module - 1.5' Diagonal, 128 x 128 Pixels, 65K Color STN
"